A couple of days ago, the Obama Administration released its FY 2015 budget request to Congress, which includes funding for the nation's cultural agencies and programs, such as the National Endowment for the Arts (NEA), the Office of Museum Services, and the Department of Education's Arts In Education program. The latest e-newsletter from Americans for the Arts, titled "President Drops Support for NEA in 2015 Budget," sounds pretty dire for those who are quick to read that as support was dropped (totally) as compared to support dropped (somewhat). Still, the Americans for the Arts President & CEO Robert Lynch noted, "To reduce support provides both an inconsistent and confusing message for the creative economy in America." To further emphasize the inconsistency, the newsletter included a chart following the administration's NEA funding requests: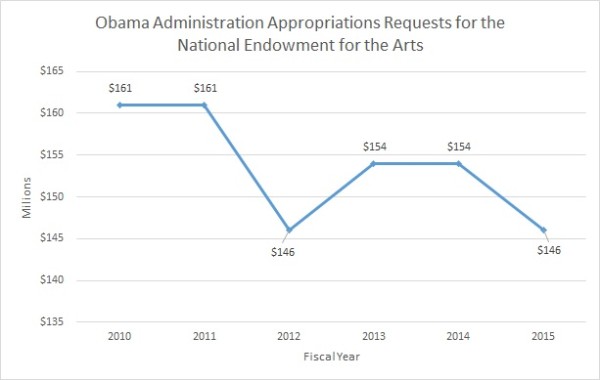 The Los Angeles Times' Mike Boehm sums up the FY 2015 budget request in his article's headline, "Obama budget: Good for D.C. museums, not for NEA and arts grants." The National Gallery of Art and the Smithsonian Institution are to receive the entire proposed arts increase for museums, but that will include funds for renovations and new construction, most notably for the Smithsonian's National Museum of African American History and Culture, which is expected to open in 2015. Boehm points out that the budget provides no increase for the three grant-making bodies that disburse money to nonprofit groups outside Washington, D.C. and is certainly far less than the 10% Obama advocated a year ago.
Anyone who has ever overseen a budget knows the difficulties in returning to pre-emergency budget cut (such as last year's sequestration) numbers, much less account for inflation. Once the folks who hold the purse strings realize that it's possible to live on less, people resort to kicking and screaming to remind them that the temporary measure is not sustainable. While many are upset about the proposed budget for the NEA and other groups, the NEA Senior Deputy Chairman Joan Shigekawa is not biting the hand that feeds it, releasing the following statement: "In these challenging economic times, it is heartening that President Obama has put forward level funding for the National Endowment for the Arts, allowing the NEA to continue our mission of providing all Americans opportunities for arts participation." But Americans for the Arts plans to make some noise, and asking grassroots advocates to join them for National Arts Advocacy Day in Washington, DC, on March 24-25.