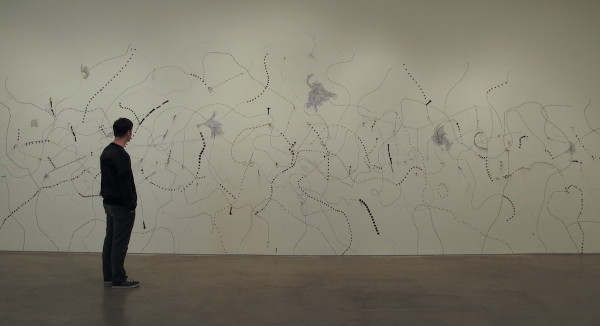 An adage tells us that all roads lead to Rome, but Italian artist Andrea Bianconi's dashed pathways and cryptic arrows are more about the journey than any destination. His latest effort, Tunnel City, opened at Barbara Davis Gallery on Thursday evening with a Chaplin-esque performance by the artist. Bianconi's meandering wall drawing, replete with collaged felt arrows, freshly drilled holes for disconnected tubes and wires felt decidedly apian—my eyes buzzed lazily without stopping.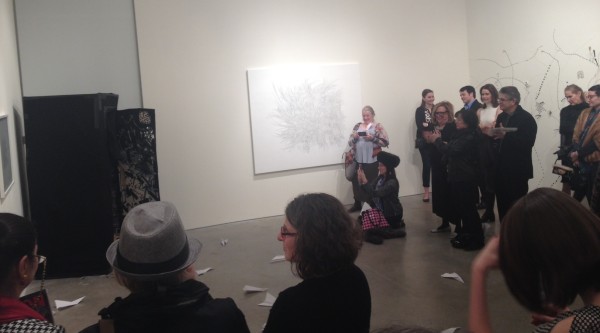 At seven thirty, a slim-suited Bianconi entered a black duct-taped box in one corner of the gallery. Several anticipation-filled moments later, the box started jerking, being punched or kicked from the inside. Crisply folded white paper airplanes launched from within began peppering the wine-plied room. Giggles ensued. One smiling patron was hit three times. A spray of plastic scraps and electrical wire followed, and finally the artist burst forth, scratching his head, with tubing sprouting from his clothing.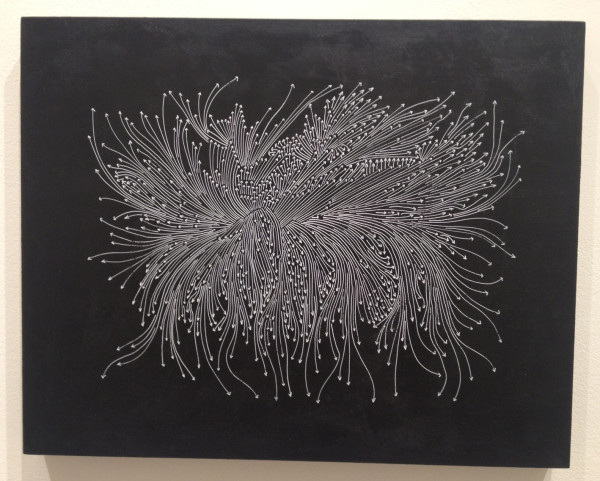 Despite the lovely clownishness of the performance and his bohemian installations, Bianconi is not one to bite the so-called hand. His tightly networked drawings of arrows bloom enticingly from frames and canvases. They're decorative, but not empty. It's shocking that the artist was able to wrangle such a cohesive commercial exhibition, as much of his work was waylaid by German customs. For many, such a challenge would prove insurmountable. But true to his vaudevillian persona, Bianconi pulls it off with ease.
Tunnel City by Andrea Bianconi will be on view at Barbara Davis Gallery in Houston through March 15, 2014