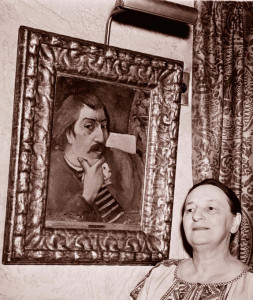 At her death in 1950, Marion McNay left more than 700 works of art, along with her house, surrounding 23 acres, and an endowment to establish the first museum of modern art in Texas. In 1954, San Antonio's McNay Art Museum opened its doors to the public and this weekend, it is celebrating its 60th anniversary.
They will kick it off on Thursday at 6:30 pm with some history: a talk with the director and curators on Marion McNay's favorite objects, followed by a champagne toast. For those who just want the birthday party, there will also be free live music and beer and food trucks on the grounds from 6-9 pm. On Friday evening (Valentine's Day), there will be groovy 60s music with champagne, hors d'oeuvres, dessert, dancing, and entertainment by the Allegro Stage Company. On Saturday, there are free tours and a ceramics workshop. Sunday starts off at 10 am with a 5K run around the museum grounds (winners get art!) and then tons of kid-friendly activities and entertainment (and birthday cake) at the Free Family Day from 11 am-3 pm.
Most of the activities are free, but some require registration or tickets. For more information on the weekend celebration, go here.