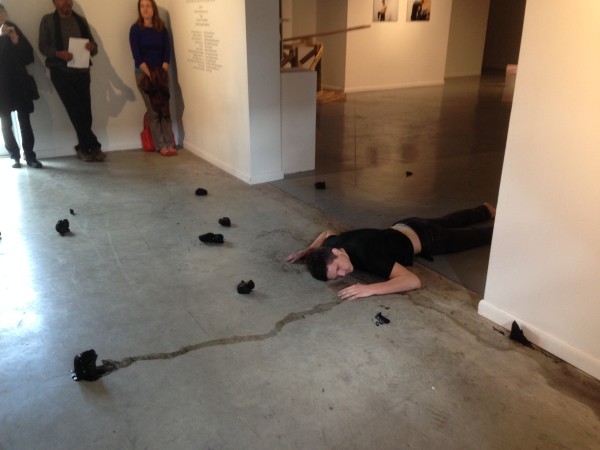 I was five minutes late. When I arrived on the scene, Hawk was lying, facedown, on the concrete floor in a pool of clear fluid. A circle of people stood silently, as water trickled from a bucket overhead onto Hawk's prone form. Drip. Drip. Drip.
A slim, youngish man with dark hair and a stubbly beard, Hawk was dressed in dark jeans and a black t-shirt, as if he had passed out on the sidewalk in front of a club, or fallen off his skateboard. Barefoot, he was Everyman, from Brooklyn.
Time passed. He seemed to be breathing. Despite juicy chunks of a dark, clotted goop scattered around his body, he didn't seem to be bleeding. I decided not to call the paramedics.
Maybe people who attend more in-gallery performances than I do recognize this as a conventional type of presentation: the audience forms a circle around the performer, and whatever happens inside, on the impromptu "stage," follows theatrical norms of suspension of disbelief, non-interference with the performers by the audience, etc.
Certainly no one interfered. For most of an hour, as we stood watching Hawk getting dripped on, no one spoke, and few moved, except to leave. One Art League staffer, on his way to the org's offices at the back of the gallery, stepped across Hawk's magic circle apologetically, like someone squeezing past your knees on their way to the restroom.
It was a lot about waiting. Not being conventional theater, there's the familiar anxiety about one's role: should I see if he's OK? Can I go finger those icky lumps? Should I get some paper towels? Or do I just wait and watch? This kind of social discomfort is almost the defining effect of most art performances; it often is used as a stand-in for other modern anxieties, but it's easy to evoke, and is always the same. Hawk's performance failed to rise above the cliché.
After a few minutes, it was clear that he was lying there, and we were watching, and it was likely to stay that way, leaving attention free to wander away from Hawk's body to the other audience members (yawning and texting), the goop (still don't know what it was—Jell-O? Axle grease? Tar sand?), the exhibition literature, and Instagram.
Instant messaging has transformed the experience of events like this—without audible sound or visible disruption, I could view Hawk's body from a half-dozen angles via the Instagram feeds of others in the room. I could check back to see what had happened before I got there, and read texted comments like, "I feel like I just got suckered." Audience empowerment.
After twenty minutes or so, he twitched, flexing his fingers weakly. Thereafter, he would periodically vibrate his arms, shoulders, back and buttocks, as if shivering. He didn't overdo it; although not completely convincing, it created an impression of vulnerability that, aside from tedium, seemed to be the whole content of the piece.
Eventually, when the water in the bucket ran out, he got up. Standing slowly in his sopping clothes, he turned and walked offstage into the Art League's offices.
Ryan Hawk performed at Art League Houston on Saturday, February 8, 2014, in conjunction with his one-week exhibition, curated by Max Fields. On view through February 14.