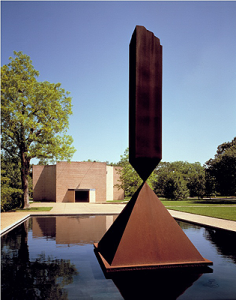 Happy Martin Luther King, Jr. Day! In honor of Dr. King's birthday, there are a number of parades and celebrations throughout the state this morning and afternoon. This evening, the Dallas Institute of Humanities and Culture will host the Ninth Annual MLK, Jr. Symposium with journalist/cultural critic/TV host Touré.
For the more meditative type, Houston's Rothko Chapel will be presenting a sound installation of sorts, playing speeches from his life throughout the day within the quiet of the chapel. The speeches will repeat at 11 am, 1 pm, 3 pm and 5 pm.
On your way out, don't forget to give a nod to Barnett Newman's Broken Obelisk (1967). A year after King's assassination, the de Menils offered to match a federal grant to bring the sculpture as a gift to the City of Houston. But after the de Menils decided to dedicate the sculpture to Dr. King, the city declined the gift. The de Menils purchased the work themselves and installed it in the reflecting pool outside the chapel in October 1970.