I am really interested in the various creative intersections and translations that are happening in and between the worlds of experimental music, visual art, and film/video these days. So I was a little disappointed to find SonicWorks, a current exhibition at Houston's DiverseWorks purporting to explore "the expanding field of experimental sound art and practice," pretty vague, uneven, and lazily executed.
What I do find most interesting in SonicWorks, and what I think perhaps saves the show and ongoing event series, are its nods to a local history that served as its original springboard. While assembling their fall exhibition The Eleventh Hour, Associate Curator Rachel Cook discovered in the organization's archives a bunch of materials documenting DiverseWorks' various pioneering sound art presentations in the 1980s and 90s. She was especially excited to find evidence of New Music America 1986, an ambitious, city-wide festival led by experimental composer Pauline Oliveros, coordinated by Art Guy Michael Galbreth, organized by the Houston Festival, and headquartered at DiverseWorks nearly 30 years ago. Ephemera and video documentation relating to past happenings, a few playful Art Guys pieces from that era, and performative events relating to the 80s work of Oliveros and Bonnie Barnett are, to me, the highlights of SonicWorks.
In an enclave at the back of the gallery, a large case contains a collection of pieces, notations, graphics, and promotional materials relating to early Galbreth works and New Music America 1986 (NMA) events and community tie-ins. Nearby, monitors (with headphones and benches) show a rotation of rarely-seen footage—the left monitor featuring five Art Guys performances ca. 1992, and the right monitor featuring short documentaries made by Laurie McDonald that capture NMA events in 1986. The NMA videos, which, to my knowledge, can't be seen elsewhere, include priceless footage of fascinating experiments.
This repeating video includes glimpses of two NMA events that also served as opening day festivities for the Museum of Fine Arts Houston's Cullen Sculpture Garden—a funky parade down Montrose Blvd. organized by Houston artists Rachel Hecker and Trish Herrera with New York musician/composer Tom Cora (the seed for the city's now huge, annual Art Car Parade); and the world premiere performance of John Cage's "Ryoanji." Also included is documentation of artist Russell Frehling's "Mapping" (a part of the NMA experimental "Astrosound" events at the Astrodome), Bonnie Barnett "Under Houston Humming" (a live participatory vocal event held in the downtown tunnel system and simulcast on KPFT radio), R.I.P. Hayman's Dreamsounds (an audiovisual event for a sleeping audience held at the downtown Holiday Inn), Australian performance artist Stelarc modulating body rhythms (an event held at DiverseWorks), and a discussion with Detroit artist Pat Oleszko (part of DiverseWorks' NMA "Sight and Sound" discussions).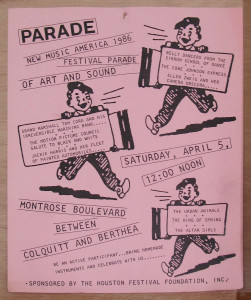 Although it's not made very clear in the show, New Music America 1986 was an unbelievably big and bold undertaking, and an important part of an important year for DiverseWorks and Houston arts and culture in general. NMA featued exhibitions and events at various local galleries, museums, and schools—among them DiverseWorks, Lawndale, The Orange Show, Museum of Fine Arts Houston, and the University of Houston. DiverseWorks hosted Sylvia Smith's "Scribing Sound" exhibition, an installation by composer/filmmaker Phil Niblock, and numerous performances and artist discussions. There were engaging and unexpected uses of public spaces—the Dome, the tunnels, churches, hotels, even commercial flights into Houston. A John Cage performance in the brand new sculpture garden; Mary Cullather's installation at the downtown YMCA pool; electronic works by David Behrman in the Smith Tower lobby; tape works by Morton Subotnic at the Burke Baker Planetarium; Ornette Coleman and Prime Time performing at the MFAH; Culturcide, Brave Combo, and Sonic Youth playing downtown for the fest's closing event… and that's not the half of it. This thing was a major moment, deeply interwoven in a glorious and tangled, local cultural history. It exemplifies what I've always considered a uniquely Houston approach to creative engagement—mixing high and low culture, local and international arts, order and chaos, hyperbole and nuance, smarts and cajones. And above all, consideration of the city and its inhabitants as venue, medium, and audience. The various paper and video documentation on view in SonicWorks scratches the surface of this great local history and reminds us of the tremendous possibilities when visual, auditory, and performing arts intersect, and of city activation when ambitious people collaborate.
Two of the upcoming events held in conjunction with the SonicWorks show connect this history to current artists and audiences, and should be interesting. On Saturday, Feb. 15th (starting at noon), Nameless Sound will present a marathon of performances by Houston musicians of scores by Pauline Oliveros. On the following Thursday, February 20th, there will be a restaging of Bonnie Barnett's participatory "HUM" at the James Turrell Skyspace on the Rice University Campus.
I'm grateful that DiverseWorks has unpacked some things and is playing a bit with Houston's history of pioneering presentation in the 80s and early 90s. Though I do wish they'd taken more the cue for an ambitious, visionary, risky exhibition on the whole. Especially since this kind of artist experimentation has blossomed greatly over the past 25-30 years, it would be nice to feel as excited about a trajectory as I am about the show's throwbacks.
SoundWorks is on view at DiverseWorks through March 1. More info on the exhibition and related events HERE.