The term "social practice" has been getting more and more popular among artists in the past few years, although it still seems only slightly more defined (but definitely more user-friendly) than its parent art term "relational aesthetics." Both concepts take the isolated artist out of his or her studio and into a social context, but social practice art is not just about social interaction; it seems to focus on responsible and productive social interaction. There is a moral component that can be tricky for artists (or humans, for that matter) to navigate in projects designed to "do good" for society.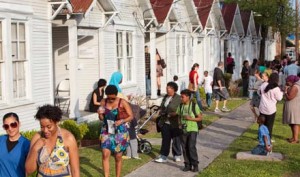 Fortunately, there are now a number of examples of some mindful artists and successful projects from which we can learn and Houston's Project Row Houses (PRH) is bringing some of those folks together for a symposium. In conjunction with its 20th anniversary celebration, PRH is presenting "Social Practice. Social Justice" on January 24-25.
On Friday evening, there will be a conversation about art and community engagement with three African American artists: Mark Bradford, Theaster Gates, and PRH founder Rick Lowe, moderated by CAMH Senior Curator Valerie Cassel Oliver. On Saturday morning, there will be a session on the practicalities of building community with some heavy hitters from the world of architecture and urban planning, followed by the keynote address by George Lipsitz, Professor at UC Santa Barbara's Department of Black Studies. In the afternoon, there will be a panel moderated by Queens Museum of Art Director Tom Finkelpearl, who has been getting a lot of attention lately for tossing out the standard elitist model of museum outreach and getting down to the business of being a good neighbor. He will be talking with Jamal Cyrus and Robert Pruitt of Otabenga Jones & Associates; Assata Richards, program manager of PRH's Young Mothers Residential Program; and Risë Wilson, founder of The Laundromat Project ("Wash Clothes. Make Art. Build Community").