Cultural theorist and movie-lover Slavoj Žižek gets all up in the screen at the MFAH.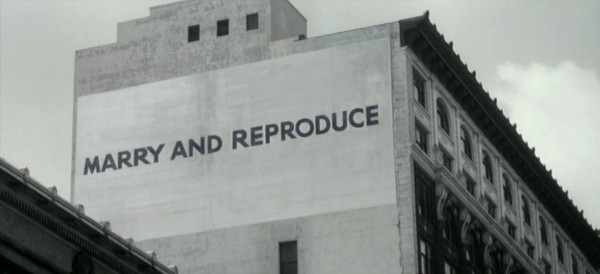 The new documentary film, The Pervert's Guide To Ideology (MFAH, Jan. 12 & 19), begins its fascinating philosophical rant-romp with clips from John Carpenter's They Live– a great and often underrated movie in which the main character stumbles upon special sunglasses that reveal prevalent hidden messages promoting subservience and conformity. That's a perfect place to begin a tour of societal codes and cinematic translations with the outrageous philosopher and cultural critic Slavoj Žižek.
In the years since their previous collaboration, The Pervert's Guide To Cinema, Žižek and director Sophie Fiennes have been developing this follow-up film about our establishment of and struggles with ideologies, and ideological representations in movieland–both overt and subconscious. Like its predecessor, this new film is largely made up of deftly curated clips from dozens of wide-ranging popular movies (as well as some rarities), intercut with Žižek filmed in meticulously recreated sets matching the movies being explored. This simple conceit allows viewers to dwell inside the spaces of movie fictions and flow though an interwoven collage of unlikely connections and observations on the human endeavor and our reflective cinematic constructions.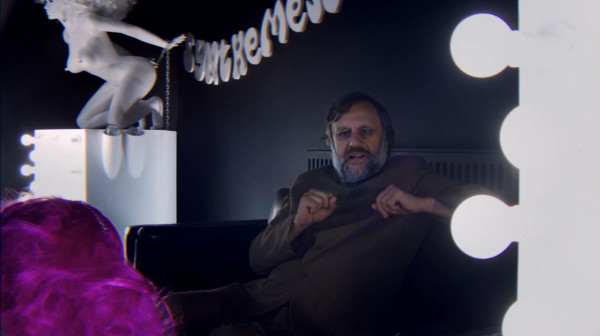 A word about your tour guide. Žižek is one of my favorite stand-up comics. He's simultaneously a charmingly disheveled, rambling weirdo and sharp-as-a-knife theorist and provocateur. His rigorous study of humanity and history, his underlying passion and humor, and his heavy Slovenian accent (he somehow pronounces the word "film" with two syllables throughout) will keep audiences alternately smiling at the absurdity of it all and nursing deep revelations, and sometimes both.
He interacts with and summons unusual conversations between a mix of canonical films and pop flick fare–among the many, West Side Story (1961), Seconds (1966), A Clockwork Orange (1971), Jaws (1975), Taxi Driver (1976), Brazil (1985), Titanic (1997), and The Dark Knight (2008). Various asides– the UK riots, the various historic appropriations of Beethoven's "Ode To Joy," commodities like Coke and Starbucks, a trip to a jet plane graveyard in the Mojave desert–weave into supporting context.


Žižek is bold and rapid fire with his assertions about religion, government, consumerism, human desire, and the invisible order of things. And, at times, one misses a comment while reacting to the last one. (Did he just say Catholicism is more atheist than atheism? While standing in the convent in The Sound Of Music?! And what was that about Plato?) But that's fine. You will not be quizzed. And he and the film are disarming enough to allow the viewer his/her own focus, pace, and opinions­– even disagreement–without derailing the journey. These ideas aren't presented as the intended meanings of films or absolutes, but rather posed as possible alternate perspectives. And the final act of the film certainly lies in one's own ruminations and reverberations in the following hours and days.
Most surprising is the fact that this experimental documentary addressing the most impossibly ambitious topics is very accessible–more like a fascinating bar conversation than a lecture or straight documentary. The Pervert's Guide To Ideology conjures a dream montage of ideas and images, encouraging us to look at the world–and cinema–more closely and consider larger contexts. I suggest putting on these glasses.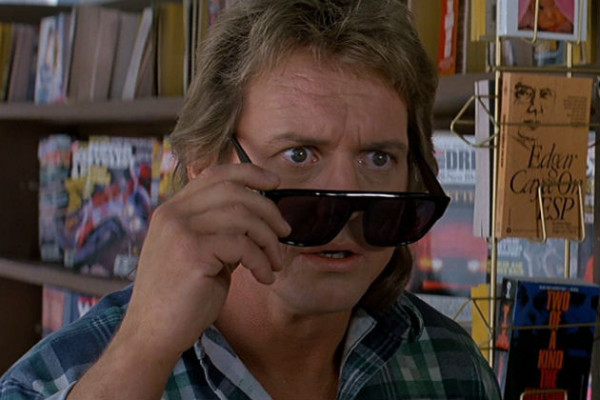 The Pervert's Guide To Ideology screens twice at The Museum of Fine Arts, Houston, on Sunday, Jan 12 (5pm) and Sunday, Jan. 19 (5pm). More info HERE.