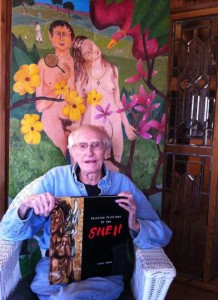 Artist Don Snell died peacefully at his Georgetown home on Monday morning at the age of 91, reports his partner Ruth Roberts. "Don lived a rich life, full of fun and fantasy," she writes, "and blessed by more friends than I can imagine."
Known mainly for his expressive figurative paintings, Snell also created sculpture and photography. Throughout his career, Snell had exhibitions throughout the U.S. and Europe, as well as in smaller venues near his home. On a 2004 painting, he wrote a text "An artist makes a statement," reprinted on his website, which reads in part:
It was never my intention to be an artist. But I read "Lust for Life." The idea of drawing naked females was of great interest to me. Besides I had no marketable skills so I took the vow of poverty and became an artist…..So far my career has been uneventful. But when you consider I am 82 and still producing great works of art, things have not been all that bad.
Snell was born in Sioux Falls in 1922, grew up in Kansas City, and served in World War II in the United States Army Air Corps. Snell received his BFA from the University of Texas at Austin and completed postgraduate studies at Tulane University in New Orleans. He subsequently taught at Tulane, as well as at Arlington State College in Texas and the University of Houston. In 2010, Snell was awarded the Lifetime Achievement Award from the Austin Visual Arts Association.