Justin Hunter Allen's rhetoric is that of a young man awash in the culture of the "underground," of the internet, and the Dallas art scene. His press release talks about the recent legitimization and explosive growth of artist collectives in Dallas. His artist statement is a manifesto that parodies/reflects one published in Phrack Magazine in 1986, substituting the travails of an artist trying to make it for that of a hacker near the dawn of the internet explosion.
Showing off his interest/involvement with the Reddit and 4Chan universes is oddly tangential to his paintings, his anachro-digital survivalist website includes ASCII art and uses forum software similar to 4Chan. His postcard, at left, for his current show at Dallas' BEEFHAUS uses the popular Doge meme. A collage in the bathroom uses the Troll Face from Rage Comics.
A branch of Allen's site contains a new Wiki for independent art spaces and groups. A better domain name than "http://4freedom4empire4.us/uswiki/index.php/Main_Page" and some user interface improvements might help it.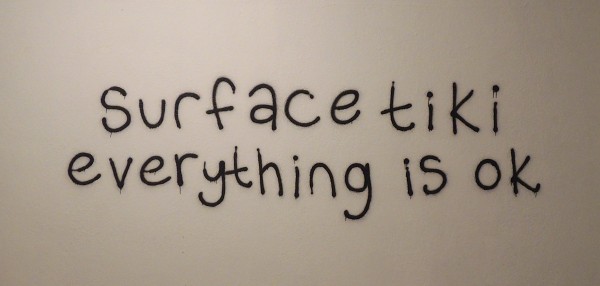 Most of the work in the show is a different animal: a group of simple, beautifully composed paintings. Calm, mostly formal and gracious, they combine acrylics and  spray paint to make a world of windows and frames.
There is a profound need to please in these paintings, as opposed to Allen's websites, designed for art and computer nerds. I think that's the reason he's working physically. Although it's something that has been done for a long time, accessing the Ab-Ex spirit of painting about painting and about the actions of the painter is justified at this point, especially in contrast to his online works.
In Yes, We're Open, the spray-painted happy face and "WELC" suggest playfulness but not transgression. These paintings are reserved in their angst. They do not need that much attention or backstory to love.
It's a serious show, but it's not a dick about being serious; I think that's something everyone in the art world needs to learn. There isn't a place anywhere where these paintings are telling you how great they are—the BEEFHAUS gallery setting is very modest; the canvases are not thick gallery wraps, just standard 3/4 inch stretcher bars. There's nothing pretentious about them, yet they're very much not a joke.
These paintings might be tough enough to prod the square viewer, but they're not challenging any ideas that weren't challenged fifty years ago. To me, they are just pure beauty and love. Sure, they're slapdash, and that can be challenging to some viewers, but I don't think they were put together quickly as much as they were put to together to appear as if they had been put together quickly. The compositions are rock solid, the color choices are super deliberate. The paintings' slapdash appearance is paying service to punk aesthetics rather than reflecting the actual manufacture of the object.
Casual but deliberate, with the occasional staple to remind us of the painting's objectness.
The suggestion of a ladder and door in Portrait of the Artist as A Vacancy are there if you want them and recede into pure abstraction if you don't. Alluding to things is better than trying to render them. The faux wood grain is a nice touch; it is more about a paint surface than a simulacrum. It's calculated simplicity is appealing: not boring and minimal, it has just enough of everything, but not too much.
The only less-than-awesome thing in the show is WHAT GIVES, a found painting/installation in the bathtub. It's trying too hard to use every part of the space and please the punk ethos of the burgeoning BEEFHAUS aesthetic. It might have been better to edit it out.
BEEFHAUS is keeping the exhibition times for its shows short and sweet and seems to be adding programming as fast as they can. They are really trying to make the space into a hub for artistic experimentation in Dallas.