Eli Walker's art is alive.
Walker refers to the tightly constructed, low-tech Minimalist-painting hybrids in untitled [new paintings by Eli Walker] at RE Gallery and Studio in Dallas as sentient, possibly even knowing. They are vital things on par in substance and importance with humans.
This human-thing parity is an instance of "object-oriented ontology," the latest philosophical craze in academic circles. Refusing the hierarchy of man's existence over all other living and non-living matter, it is a philosophy that displaces the consciousness of humans as central, and engenders the possibility of life, thinking, and consciousness in unexpected places and things. That beanbag you just scrunched down into is part of a living continuum that includes you as well as the art in your midst. The inanimate is truly animate.
To the accusation of "object-oriented ontology," Walker responds just like his paintings, demurely. For the artist they are simply well constructed things that happen to be paintings as well. And, as much as you feel their presence, they might feel yours.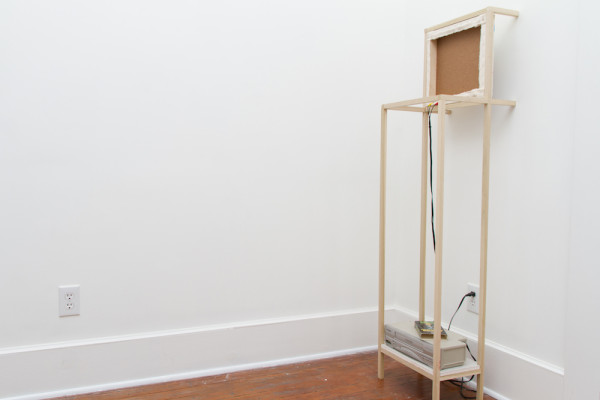 Mammalian characteristics of introversion and extroversion connect in Walker's untitled [vhs], a wooden structure with a VCR playing David Bowie's Ziggy Stardust and the Spiders from Mars (1973). Rather than a TV, the VCR is plugged into the frame of a painting mounted in the structure above. The energy of the film whirring below channels life into the backside of the small painting shyly facing the wall. Crain your neck around and you will see at an oblique angle layers of paint: striations, colored lines, and other informal flourishes.

The pieces at RE Gallery and Studio are not about words but sincerity and the physical experience of encounter. Giving language to his work after cajoling, Walker calls untitled [kentucky lake 1] and untitled [kentucky lake 2] "landscapes." Bent surfaces with tape-lined and gestural marks in 1980s colors (mauve, blue, and silver), they are somewhere between de-wheeled longboards and weathered planks. The two pieces suggest landscapes only in their bowed curvature. They seem to incarnate Greenbergian abstraction and flatness. Carefully constructed curved canvases, with wide tops and narrow edges, as bearers of  "objecthood" they are part of a formal enterprise that includes the painted objects of Ellsworth Kelly and the early works of Frank Stella.
A member of the S.C.A.B. artists collective, Walker admits his allegiance with New Casualism and New Provisionalism, after some coaxing. The self-deprecation, self-abnegation, and intuitiveness of his peekaboo paintings place him squarely within these trends. Walker's work bears what writer/curator Sharon L. Butler calls a "calculated tentativeness." The pieces seem like "open propositions," to quote Butler again.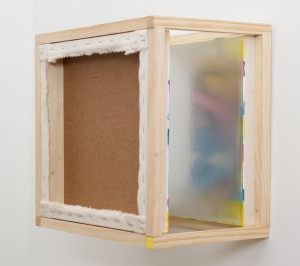 Walker's aversion to language is a marked turn away from the intellectual hullaballoo of conceptualism—decades of Wittgenstein, Structuralism, Post-Structuralism, and Deconstruction that arose on the heels of a collectively deemed "anti-intellectual" generation of Abstract Expressionism.
The work of casualists and provisionalists, like Walker's, is not what critic Jerry Saltz has called "Neo-Mannerism." These artists are, if anything, neo-modernist. This crop of new, young work in Dallas is a throwback to Giacometti, Guston, and Rothko. Dallasites were first introduced to this revisionist modernism with the painting and collages of Being and Nothingness (2009) at the now defunct Light and Sie Gallery and the large-scale sculpture of Statuesque (2011) at the Nasher Sculpture Center. In Walker's new work we see glimmers of other modernists: Jackson Pollock's intuition without his machismo; Agnes Martin's tight form, without the evanescence; and the constructedness of Blinky Palermo sans hidden ambitions.
The artists of this generation, the casualists and provisionalists like Walker and his compatriots in S.C.A.B., are not interested in how or what you call them. They are not interested in what I say. They just want to make art, and I don't blame them. We are actors in an art world where 150 is the fulcrum: National Endowment for the Arts funding is just under $150 million as is the record-breaking auction price for a single Francis Bacon triptych. It is almost impossible to be an artist in the American economic context, so I do not want to simply say hats off to Walker and the emerging generation of artists but bravo! Make art. Make things. Bollocks to linguistics and the like!
Hurry! untitled [new paintings by Eli Walker] will be on view at RE Gallery through November 30.