This is the inaugural post in a new series, "Sights Unscene," meant to highlight interesting art and design found not in the art scene but integrated in the landscape of Texas bars, restaurants, buildings, signs, etc. The series is done out of my sincere appreciation of the site-specific art that's all around us—either hard to find or, more often, hidden in plain sight and underappreciated. I'm thinking this stuff deserves a good look, and an occasional nod.
This first postcard isn't from too far off the beaten path—Midtown Houston, just a stone's throw from Montrose and the Museum District. I've decided to illuminate (literally, because they are usually only dimly lit by red clamplights) a series of wall paintings likely made about 75 years ago that, when uncovered about 10 years ago, inspired a circus-themed bar.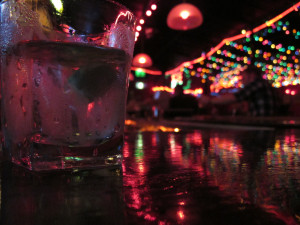 Shoeshine Charlie's Big Top Lounge at 3715 Main Street in Houston is not a historic old dive, but it feels like one. Its owner—musician, entrepreneur, and inspired hoarder Pete Gordon—loves funky, old stuff. It's an appreciation that led him to buy the 83-year old building, keep much of the original structure and finishing intact, and fill it with good, old-fashioned live music, funky art, old posters and signs, and other like-minded tenants. He purchased the building, originally erected in 1930 for Wallis Drug Store, in 1999 in order to open up the Houston location of his Austin music venue, The Continental Club. An early and long-time original tenant of the building was the Playhouse Toy Store, where the Big Top is located today. Gordon was just using that space for storage for a while, but when he poked through the drop ceiling and saw the great toy store murals that had been unseen for decades, it inspired him to rip the ceiling out and open a bar. Riffing on the circus theme of the old paintings, Gordon strung up colored lights and filled the place with clown paintings, big mice from the now defunct Astroworld, a bumper car out front, and a bottlecap throne by outsider artist, Mr. Imagination. (There's even a creepy painting by Glasstire contributor Paula Newton hidden in there somewhere.) But the cozy low light, fantastic clutter, and stiff drinks may lead folks to overlook the old paintings that look down from high on the walls.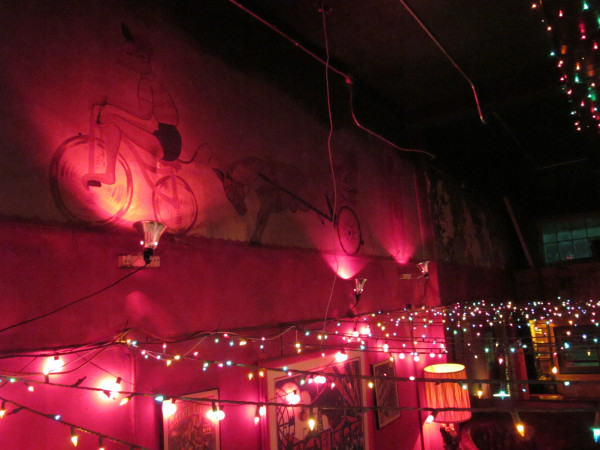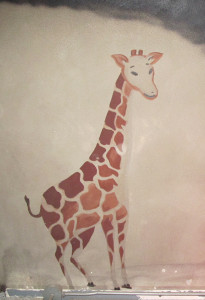 These were made sometime in 1930s or 40s. Not much is known, at least to me or Gordon, about the specific history of the store except that Playhouse Toys was a chain with a few Houston locations and this location is said to have been open between the 1930s and 1950s. (I've also heard that the Toys R Us giraffe mascot was originated by and licensed from Playhouse…maybe this fella on the right?) Some of the paintings are badly peeling, and the various wall paint and degradation make them seem like ancient ruins. I took the following photos of some of them with additional light and camera flash, so the paintings are seen a little clearer here than they normally are.