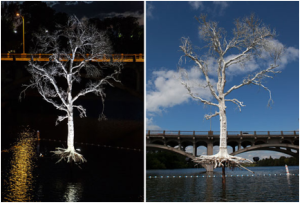 Austinites have grown used to the THIRST tree hovering above Lady Bird Lake since it was installed by Women & Their Work in late September. Meant to call attention to the 300 million trees that died in the 2011 Texas drought and "to reconsider our relationship to water," the THIRST tree has been severely damaged by the recent flooding in Central Texas. Just when they repaired the lighting, roots, and buoys, another flood came through and washed away all their efforts.
For those prone to point out the irony of the event, Women & Their Work is quick to point out: 1.)  In spite of all the recent rain, the drought is still not over, and 2.) It is weather extremes that cause both droughts and floods.
Although the temporary installation is scheduled to come down on December 16, Women & Their Work is trying to quickly raise $15,000 to repair the work.