Last summer, James Turrell's retrospective exhibition, The Light Inside, drew thousands of visitors the Museum of Fine Arts, Houston to immerse themselves in the local segment of Turrell's three-part retrospective, simultaneously on view at the Guggenheim in New York, and the Los Angeles County Museum of Art.
Among the more frequent visitors was Gabriella Flournoy, an independent curator pursuing her MA at the University of St. Thomas. Flournoy visited Turrell's show 25 times with family, friends and acquaintances and recorded their reactions to a standard set of questions, using the ineffability of Turrell's works to draw out the personalities of her subjects and her relationships with them. The following are excerpts from the first half of her project.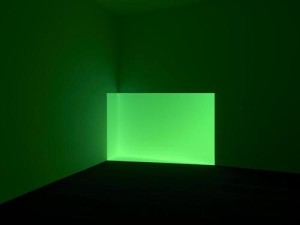 25 Visits
I am not sure that I understand Turrell's work better than most, but I would say I have come to understand the way his work makes people feel.
What did you see? Was it art? How was it made? What was it about? Does it deserve to exist? —the questions may seem simple, even absurdly so, but by asking them to twenty-five different companions on twenty-five different visits, I hoped to access a new vision of the works, and of my relationship with my companion with each visit. The summer of Turrell has come to a close; what follows are excerpts from my reflections about some of the first twelve visits, drawn from the project's blog at 25visits.tumblr.com.
Visit 1: Joaquin
Today I took my little brother, Joaquin, to see the Turrell exhibition. This little boy who barely says a word beyond his complicated video-game commentary was going to show me something about conceptual art. Would he say anything? Would he be bored? Would he get it?
Visit 2: Chance
I took Chance because I think he is thoughtful. He is intentionally honest. He is easily befriended. And I think all these traits align with those of Turrell's work. Intentional compassion is a beautiful facet of Turrell's work, and the second visit seemed to epitomize that.
Funny how simple that seems, but it became obvious that this visit was not necessarily about the art, but the experience of sharing time with someone else in exploration. After this visit, I realized how easy truly great things can be.
While we laughed and talked in each new space, I didn't feel intrusive: we were accessing an energy created by the lights, and our own mischievous outlooks. By enjoying the space in companionship it becomes obvious that Turrell's work is about thoughtful discourse, no matter how quiet and cold those rooms may be.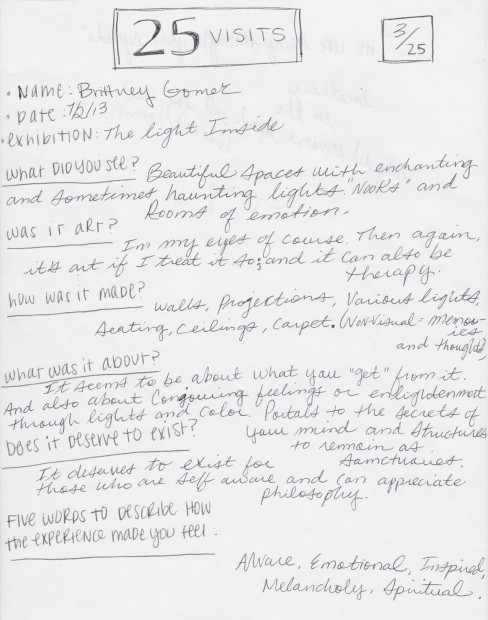 Visit 3: Brittney
Brittney is a muse in every sense; beautiful, powerful, full of emotion and covered in flowers. Brittney is the sort of person who I love to feed; she has the best reactions. I wanted to see through her eyes.
She didn't disappoint; as she was physically moved by Turrell's work I knew what it meant to be an artist. To appreciate the light, the color, the love all around us. I believe this is an enviable trait. She is able to give herself whole-heartedly to an experience.
As this bright, young thing reflected upon the beauty of this exhibition it somehow brought up the notions of our own mortality. As we discussed the Roden Crater, she realized the insignificance of our own time. She talked about how overwhelming it was to see work that costs millions, took small armies to build and a lifetime of learning to get right. How would our own generation ever compare? We talk about activism, politics and how we feel we are in the minority.  We talk about race relations, being bi-racial, and social "passing." We wonder why more people our age aren't upset. We wonder why more people our age don't seem to get it. We wonder why more people our age continue to get oil-jobs but still want to come over and get high. We wonder if Instagram is a force of creativity or a flood of uninspired hipster vomit. Being passionate sometimes means getting a little riled up. Brittney cried, she re-affirmed my own obsession, she held my hand.
Visit 4: Mom
Number 4. While it seems like that number is overwhelmingly small, this has already proven to be one of the most emotionally exhausting projects I have ever worked on.
Mom is surely the most impressive person I know. She didn't say much as we walked through the halls. She never does. I knew that with this visit, with this intellectual woman, it would be in the words she wrote. One of those words was alone. While my mom walked the halls of that exhibition with two people she knew better than any other, she felt a sense of loneliness. She said that it wasn't meant to be sad; the illusions of indescribable depth reminded her of the singular nature of our lives; while we fill our time with those we love, we can forever only count on ourselves. She described childbirth; knowing that there was not one person, thing, or magical potion that could do this for her, help her out of it, other than her own will. She said death, to her, was a similar sensation and that Turrell's work channeled the visual and emotional facets of this inescapable fate.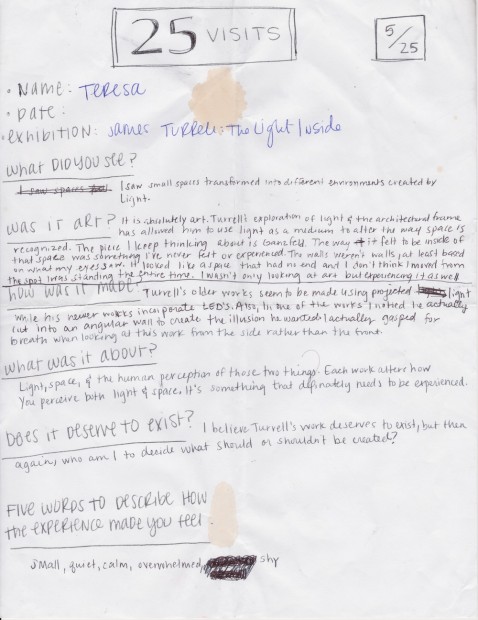 Visit 5: Teresa
For a while now, Teresa has been one of my most treasured sounding boards. She listens, she considers, she responds. These traits are a remarkable thing to find in a friend; especially in coffee-shop shallowness that seems to pervade the social structure.
Teresa is my first companion that has seen one of the other Turrell exhibitions happening in congruence with the one at the MFAH; she had seen the Guggenheim show only a week prior. She admitted that Turrell's Aten Reign, installed in the main hall of the Guggenheim was quite possibly one of the most beautiful things she has ever seen.
Visit 8: Carole
I almost always think of Carole when I go into Ganzfield: End Around; the saturated pinks, oranges and yellows along the rich, smooth walls are so reminiscent of the things she fills her life with: flowers, brightly painted walls and texture. I like that Carole, as an artist, accepts the mechanics and allows herself to embrace the awe. She discusses in her reflections that she was able to release herself from the 'technicalities' and just experience the color and geometry; something that took me several visits to accept.
Visit 9: Kirby
When we sat in Wedgework, I felt like I could physically feel him relax. Like when you fall asleep next to someone and you feel they're breathing slow, their shoulders droop. This excited ball of energy sat in this ominous room for over twenty minutes. I wondered what he was thinking about. I practiced breathing. I wanted to punch the girl next to me who insisted on text messaging in a completely dark room. I giggled at patrons consistently bumping into pitch-black walls. Once we exited, I knew he was over it [the exhibition], and couldn't wait to know what he had been thinking about all that time. Like I said before, he refused to admit that Turrell's work was 'art' but something happened in that room. He revealed in his conversation that he was able to allow his mind to go places he hadn't gone yet; he finally felt safe, calm and ready.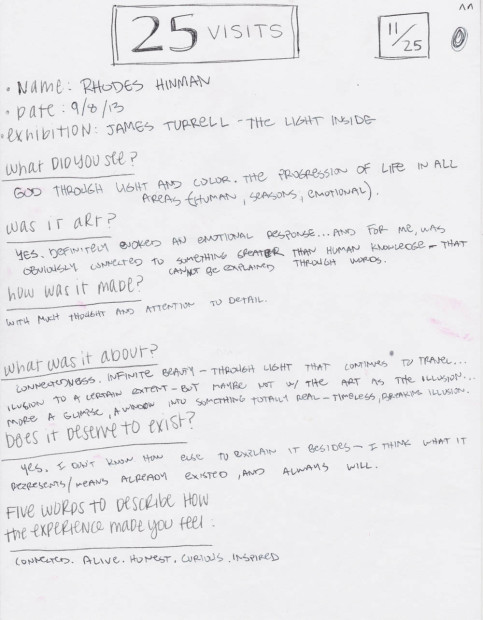 Visit 11: Rhodes
I told him about how my little brother walked into Ganzfeld and proclaimed his own thesis: "This is about God." We were both in awe that a child who has no background in formal religion would say things like this. Joaquin felt reassured of his abstract ideas, something I think Rhodes identified with.
Rhodes' transcendent experience in Turrell is based on the feeling of assurance of something greater. All too often my own experience is the opposite. These rooms filled with strangers only induce melancholy. For Rhodes, the cycles of color represented time, the seasons, a beautiful illusion. For me, the cycles of color sometimes seem ominously breathing, a reminder that everything ends, only an illusion of beauty. I am slightly jealous of his optimism, his confidence.
Gabriella Flournoy's 25 Visits project can be viewed in its entirety online at 25visits.tumblr.com.