Houston Cinema Arts Fest to present a special screening of a great Texas movie.
While the upcoming Houston Cinema Arts Festival boasts an exciting line-up of premieres and special guests, the first thing that jumped out at me from their recent program announcements was a special screening of the 1984 feature film, Paris, Texas by director Wim Wenders. This is, of course, not the flashiest, newest, or edgiest work in the festival, and I'm guessing that it may have been a last minute inclusion to compliment their premiere screenings of new documentaries about its star, Harry Dean Stanton (Harry Dean Stanton: Partly Fiction) and its writer, Sam Shepard (Shepard and Dark). But a chance to see on the big screen a great work of cinema, one of the best Texas-shot films, and, to me, the most important Houston film ever made (sorry Brewster McCloud and Rushmore, I love y'all, too) is amazing and rare.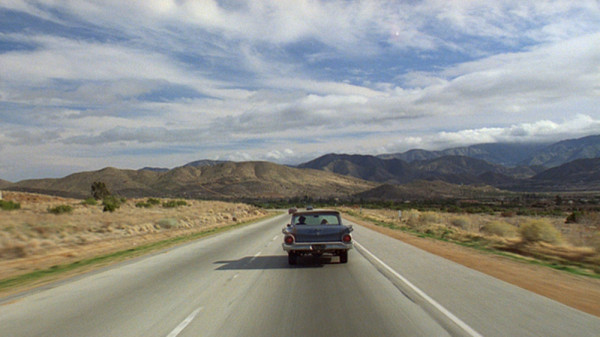 Paris, Texas is about past passions, missing emotions, and a broken history. It's a devastating heartbreak run in reverse. It's a blues song with amnesia. It's an everyman's Citizen Kane set under Texas skies, interpreted through the alienation of a Sam Shepard play and the quiet longing and restrained hope of a Wim Wenders road movie. In other words, it is really, deeply good.

The film explores beautifully the entanglement of truth with fantasy, memory, stories, pictures, and home movies. Travis (Harry Dean Stanton) clings to an old joke about his parents' first meeting to define his origin myth. Kodachrome home movies trigger a journey with his son Hunter to find and face their connection, with a black and white photo booth strip beckoning them along the way. An extension of these framed memories is the film's play with distance and spatial dividers, windows, mirrors, and communication devices throughout, leading to an unforgettable penultimate scene that sets it's most intimate confrontation in an ingenious, filtered situation.

Musician Ry Cooder's distinctive slide guitar soundtrack for the film was inspired by one song by legendary Texas bluesman, Blind Willie Johnson. Recorded in 1927, "Dark Was The Night (Cold Was The Ground)" (posted below) is unlike any other blues song, with its slow droning and aching wordless moans evoking the mystery, hope, and deep pain of life. I can't help but think of Johnson's real-life blues—from his childhood near Brenham when he was blinded by his stepmother throwing lye in his face, to his later days in Beaumont when he slept in the charred remains of his burned-down house—as a hidden undercurrent of the film. Whether or not viewers are conscious of it, Cooder's sparse adaptation of and variations on Johnson's song infuse Paris, Texas with the longing of humanity and the DNA of Texas. (Here, Johnson's moans are replaced by the lines on Harry Dean Stanton's face.)

The film's journey ends up in Houston, and its arrival here—as highway turns into freeways drawn to and around the skyline—is especially powerful for Houstonians. The mix of familiarity, nostalgia, and cinemythology compliment and deepen the films' themes. The downtown drive-through bank where Travis and Hunter go to find the long lost Jane plays a pivotal roll as long-shot destination and the center of the film's "crossroads." Still in operation, this unusual bank structure on Milam and Franklin has always been, to me, a perfect symbol of Houston in the 80s and a secret monument to this great piece of cinema. The movie also includes views of some familiar freeway stretches and streets, the downtown Meridian Hotel in Allen Center, and even the brief appearance of local 70s/80s band, The Mydolls—members of which will be in attendance for the screening.
Over the years, I've grown from identifying with the little boy in Paris, Texas—the innocent result of the film's central love-gone-wrong song—to identifying with the main, lone man character. But one thing has not changed: the destination, across barren lands where the blues and punk rock coexist, where memories, dreams and realities collide, the heart of the story where all highways lead to a tangle of overpasses…that's my hometown.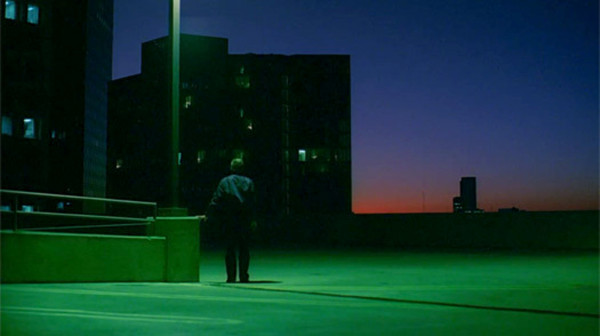 Paris, Texas is being screened at the Sundance Cinemas on Thursday, November 7 (9:40PM) as part of the Houston Cinema Arts Festival 2013. More information HERE.