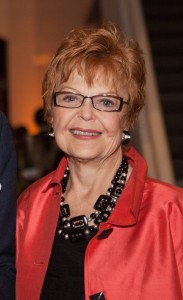 The San Antonio Museum of Art (SAMA) has announced the appointment of Merribell Parsons as Curator of European Art. The Museum has a small but choice selection of European art and, in the newly created position, Parsons will also lead the new Visiting Committee for European Art of staff and collectors, which will articulate the goals for the European collection and approve new acquisitions.
Parsons attended Newcomb College at Tulane University and received her MA and ABD from the Institute of Fine Arts, New York, with a specialization is European art history (17th-19th century) focusing on sculpture and decorative arts. She spent the 1970s as Chief Curator at The Minneapolis Museum of Fine Arts, the 80s as Assistant Director of The Metropolitan Museum of Art, and the 90s as CEO/Director of the Columbus Museum of Art. Since 2000, she has served as president of her own museum consulting firm. "Merribell brings a depth of experience and breadth of knowledge rare anywhere in the United States," said Katie Luber, Kelso Director of SAMA.
"I'm not just returning to my native city, but to my first love—working with objects again," said Parsons.