Houston's Menil Collection today unveiled plans for the first phase of the renovation of its 30-acre campus. In June, Michael Van Valkenburgh Associates was announced as the landscape architecture firm for the project and now the firm has revealed the design to transform what is now a parking lot into shaded walkways with indigenous plants leading past a new café.
Designed by the award-winning Houston firm of Stern and Bucek Architects, the café will be adapted from one of the bungalows that define the character of the Menil's campus. The bungalow chosen for the café stands in the spot originally proposed for this amenity by Renzo Piano, architect of the Menil's main museum building. The café will be operated by noted restaurateur Greg Martin, best known for his work at Café Annie, Taco Milagro, and Café Express and the Menil will be holding a public contest to help name the café.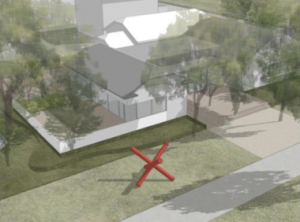 Josef Helfenstein, director of the Menil Collection, stated, "We are delighted to be able to show the public a small portion of the changes they can expect, as we begin to make our campus more open and inviting to all." Other elements of the landscape design will incorporate the site of the new Menil Drawing Institute, which is being designed by the Los Angeles-based firm of Johnston Marklee.