Houston's DiverseWorks states that its current exhibition The Eleventh Hour "traces a lineage of urgency and activism in DiverseWorks' programming over the past 30 years."  For those feel a sense of urgency about the current political climate and need a little activism inspirational boost, there will be another Eleventh Hour Artists Talk this evening at 6 pm.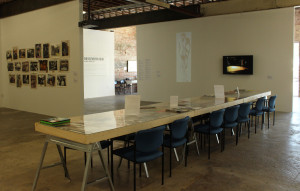 Assistant Curator Rachel Cook will discuss the exhibition with artists Michael Galbreth, Paul Hester, and Robert Rosenberg, and Mary Lampe, Executive Director of the Southwest Alternative Media Project (SWAMP). Galbreth and Hester showed work at DiverseWorks in the 1980s in support of religious and political prisoners; artist/lawyer Rosenberg will share his work "A Boy's Life, Coloring Fun For All Ages," which addresses complex struggles concerning identity, acceptance, and equality; Lampe will discuss Johannes Birringer's multimedia project created for World AIDS Day, "Ad Mortem" (1990), presented courtesy of SWAMP.
If you get so inspired that you start your own revolutionary group, there may be a few slots left at the community conference table installed within the gallery to hold your next meeting. But start the revolution now—the exhibition closes October 12.