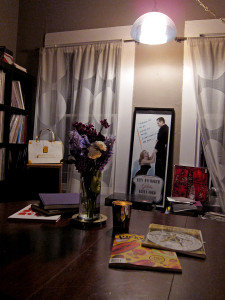 Anne J. Regan and Steven Hook's home is like hanging out on the Pee Wee Herman set in the middle of a good rain storm. Simultaneously chaotic and comforting, these two artists live and work in a beautiful old yellow house near Washington street in Houston. Anne Regan, born in California, and Steven Hook, born in Dallas, met while getting their MFAs at the University of Houston.
Although their work is markedly different in style and concept, each has a fondness for paint and an obsession with color. "I love bright, difficult colors. I'm highly influenced by Wayne White, Sesame Street, and Technicolor movies like In the Mood for Love and Vertigo. I love that era of cinema," says Regan. Scattered around her studio are brazen dollops of paint collected in small plastic containers. Stacked about a foot high, it's like she's hoarding the rainbow in salsa to-go cups. Constantly experimenting, Regan's color choices are a product of planning and pure play.
You may recognize Regan's work from her last major exhibition at Lawndale Art Center, where she was an artist-in-residence, or her recent work up at the Texas Biennial. Influenced by blues music and the American South, these new works on canvas seem to stray away from her previous mode of art making. Yet, closer inspection reveals a linkage to a tradition rooted in American pioneer aesthetic—quilting and cross stitching which, to this day, remain a constant of Americana identity.
Regan's paintings are inspired by a wide range of stitching and weaving techniques including Amish quilt makers, Sashiko threading, and Bauhaus weavers like Gunta Stolzl. She also works under the influence of her favorite musicians: "A favorite right now is Neil Young's Le Noise which will help in titling the black star painting I just finished." Regan's new series is a brave return to painting that she describes as "…learning by doing, I've never made work this way. I want my work to be more generous, something more people can get into." What makes these paintings successful is their overall attitude; they have a tranquil strength that is unapologetically human in its imperfections.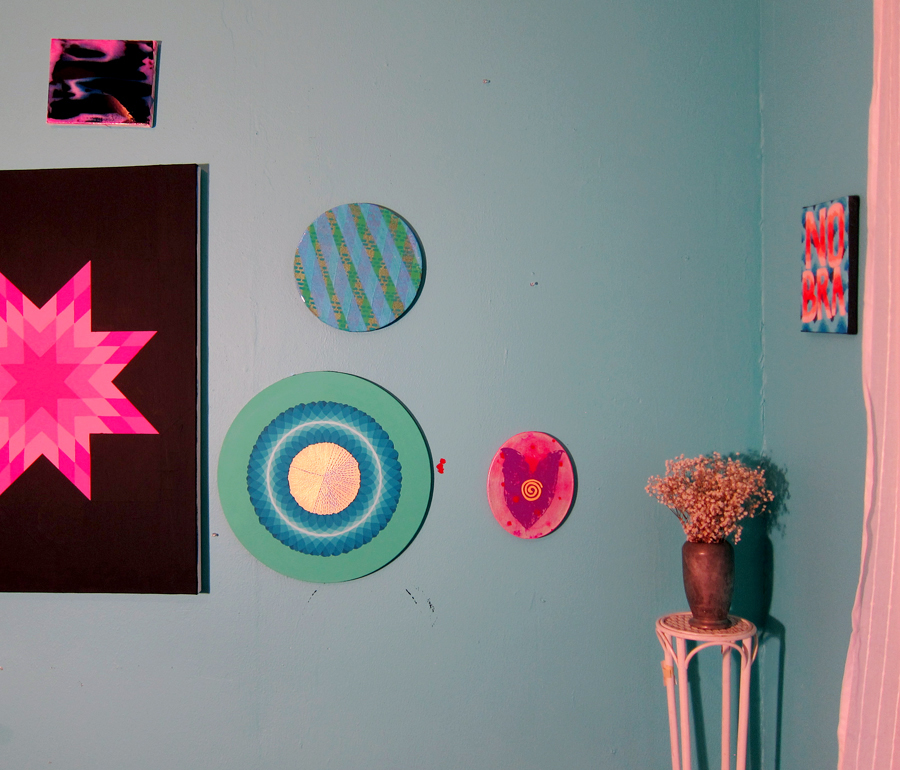 Across the small entry way from Regan's studio is Steven Hook's studio area. A large easel and stacks of canvases are filled with gestural brush strokes. Hook's technique references a milieu of art history and a strong understanding of color theory. Quick witted and steeped in painterly tradition, Hook's paintings are strikingly different from Regan's cooly planned out works. Focused on the legend of Atlantis, Hook's newest painting begins with a variety of blue gouaches: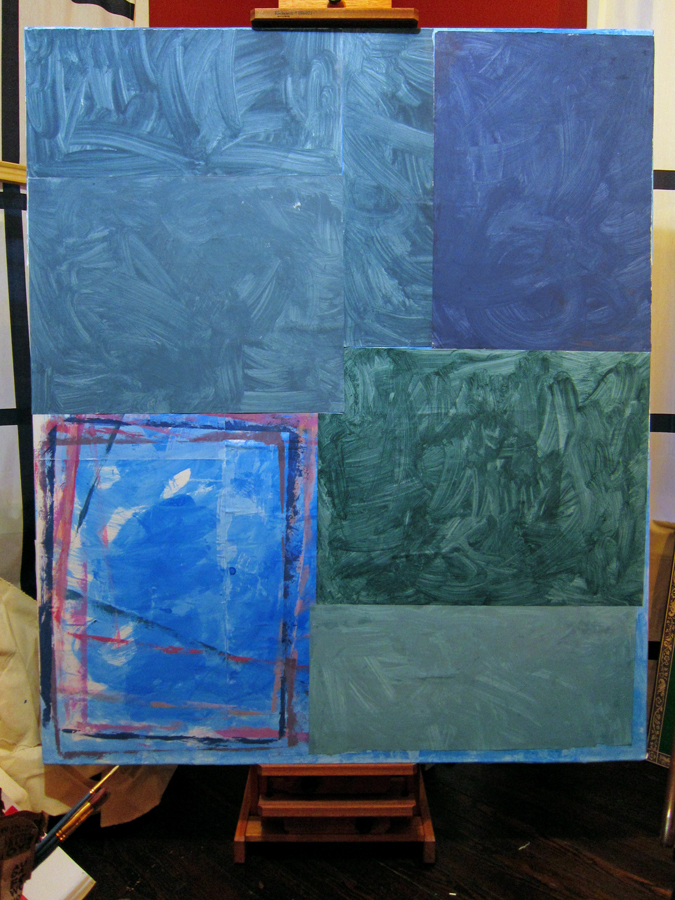 Influenced by traditional painting techniques, Hook makes humdrum, first year studio assignments seem like nonchalant contemporary masterworks. My favorite paintings were his flower still lifes and his oddly alluring chiaroscuro figures. Although Hook manages to roll Matisse, Balthus, Velasquez and Braque into one canvas, his work still exudes a contemporary and personal poignancy.
Together Regan and Hook live in an awesome, fun house full of books, records and dog toys. Surrounded by richly colored walls and bathed in light straight out of a Hitchcock film, their home is a cross between Miss Havisham's mansion and  John Waters' Baltimore homestead. There's such a good energy in their home, an energy that promotes art between two people—a beautiful place to be.
Check out Anne Regan's work right now at this year's Texas Biennial at Blue Star Contemporary in San Antonio. Later this fall, Regan will be lecturing at the Contemporary Art Museum Houston on November 9th as a participating artist in the new 20HERTZ lecture series. You can also find her jewelry on the shelves of Houston's Myth and Symbol. For more information on Regan and her work, visit her website at annejregan.com. Steven Hook's work can be found at McClain Gallery, Houston, and online at stevenhook.tumblr.com.
Special thanks to Anne, Steven, and Odessa, their disgustingly cute puppy.