Let's start with some good news about the Houston Fine Art Fair (HFAF): Houstonian Robert Pruitt was selected as HFAF's 2013 Artist of the Year. He's a fantastic choice and the Hooks-Epstein booth featuring his work is the best thing in the fair. Pruitt is also starting to receive the kind of national attention he has long deserved. His show at The Studio Museum in Harlem got him coverage in the likes of The New York Times, The New Yorker and Time. Trenton Doyle Hancock was last year's Artist of the Year. (HFAF has been redeeming itself after choosing Donald Sultan (?!?!) for a lifetime achievement award for their first Houston fair in 2011. Sultan's only apparent connection to Texas was that his sister, Terrie Sultan used to be director of the Universiy of Houston's Blaffer Art Museum.)
Houston infamously went from zero to two art fairs in 2011 when the Houston Fine Art Fair and the Texas Contemporary Art Fair both debuted a month apart. The Houston Fine Art Fair came back for its third year—but it did so without some major Houston galleries and some early supporters. Barbara Davis Gallery, Sicardi Gallery and McClain Gallery have jumped ship and moved to the Texas Contemporary Art Fair. So have Gallery Sonja Roesch and Anya Tish Gallery. Hiram Butler Gallery is abstaining from both fairs. Darke Gallery, McMurtrey Gallery and Wade Wilson Art, who participated in HFAF last year, are not participating in either as well. Unlike the two previous fairs, the Museum of Fine Arts Houston is no longer associated with HFAF as a beneficiary of the opening night but has tactfully slid into the role of "participating museum." Slightly lower profile, HAA's Business Volunteers for the Arts program was this year's beneficiary.
Devin Borden Gallery returned to HFAF for a second year; last year he featured Geoff Hippenstiel and did very well. Borden is also participating in the Texas Contemporary Fair. Borden had a nice booth with a group show including one of Laura Lark's wonderfully obsessive yet oddly ethereal drawings on Tyvek and a great globby paint accumulation on a rock by  Nicholas Kersulis.
Sadly, Borden's loyalty to the fair was rewarded by being stuck in a corner and placed next to this train wreck of a gallery from Paris…
I am at a loss for words.
Zoya Tommy Contemporary returned to HFAF as well. The highlight of her booth is a tiny LCD screen featuring one of Lauren Kelley's video "sketches." (Kelley's current show at the Zoya Tommy Contemporary gallery is a must-see.)
Deborah Colton Gallery also returned to the fair and brought work by the late and very great Bert Long. The work, as always, is as bold, witty and blunt as Long himself.
In a very nice move, HFAF gave a booth to Alabama Song Community Art Space, a living room venue in Third Ward founded by former Core Fellow Gabriel Martinez. Alabama Song brought in a host of interesting young artists and way more energy and enthusiasm than anyplace else in the fair.
My photos were too crappy to use but here is a shot of the booth from the Alabama Song Facebook page.
It seems the Houston Fine Art Fair also sought to make up for losing many of Houston's best galleries by bringing in more  international exhibitors. Billed as the Korean Pavilion, 14 Korean galleries are participating this year. There  were some interesting works, but there was also a lot of bright flat painting and bright and shiny and crass pop sculptures which pretty much overwhelmed any subtler offerings.
Apparently language barriers led to some interesting art discussion. In pointing to the Donald Duck, Batman with a hard-on and Bugs Bunny in a Louis Vuitton kilt, the gallerist said "It's stupid!" recounted one fair attendee.
"I said 'Why yes, yes it is!'" recalls the visitor. She was struck and impressed by the gallerist's apparent candor only to later discover that "Stupid" was one of the work's titles.
Some other Korean Pavilion lowlights included stuff like this…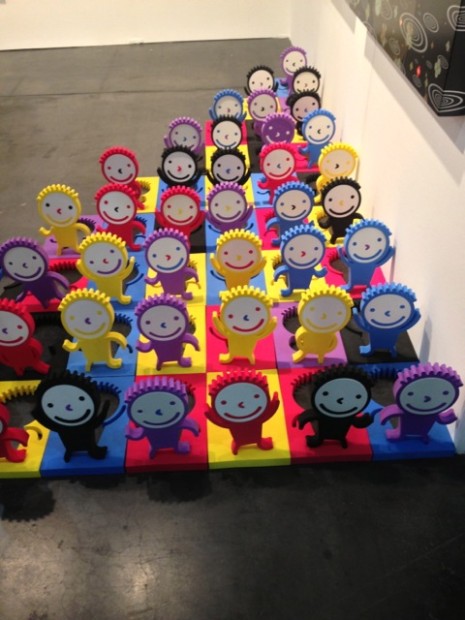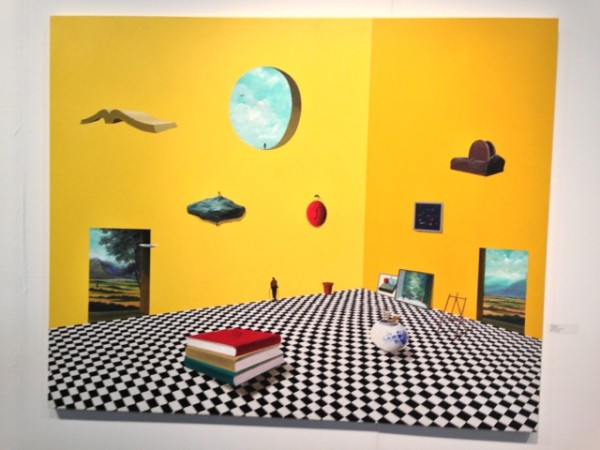 I don't object to bright shiny things in general, but the glut of it in the Korea Pavilion was blinding—which made these tiny, earthy carvings on old inkstones by Sang-Yong Lee particularly lovely and welcome.
It will be interesting to see what 2014 brings for the HFAF. More international galleries is a great idea but HFAF has always needed more selectivity. I offer as an example this choice offering from a German gallery…