Between Jules Buck Jones' Daedalus Nine: Peninsula Dead and Linda Pace's Mirror Mirror, one receives quite an entrance to the TX Biennial's New and Greatest Hits at Big Medium in Austin. The pieces compete for attention; Daedalus Nine wins.
A sculptural installation of painted canvas and carved foam animal skulls, Daedalus Nine: Peninsula Dead focuses on a central, shrine-like video monitor, where stark black-and-white patterns and shapes dance ritually across a tiny screen. Referencing both natural and mythological worlds, the piece alludes to Daedalus, the artisan of Greek mythology whose inventions, although expertly crafted, ultimately led to his own misfortune.
Eschewing the flashiness of Linda Pace and Jules Buck Jones, Justin Boyd's Vibrational-1 quietly beckons, using a more subtle approach to drawing attention. An ephemeral industrial droning permeates the space, leading to a rusty bucket hung on a thin cable, like a temple bell. An object easily ignored on the street becomes a symbol of heightened awareness. Vibrational-1 is highly effective in the silence of an empty galley but, much like a rusty bucket in a cluttered urban scene, its effect was too easily lost at the noisy opening.
In the central gallery space, Jade Walker's Figure 7 confronts the viewer like some sort of crafty dissected organ. Human sized, the sculpture consists of an exercise bike, fabric, thread, and chair parts—materials that directly reference the bodies that fill them. The viewer becomes the patient, looking into his or her own makings.
The Figure seems to be a theme in the show's middle room, which holds Heyd Fontenot's carnal paintings and Celia Eberle's bone-carved relics. Peat Duggins' large painting of blimps, The Gathering: II Evening, seems out of place with this crowd. In the adjacent video cubicle, Duggins' animation St. Boniface's Last Day captures a leafed being on a pilgrimage that leads from a forest to an urban scene, where she explodes into a flock of birds.
Frances Bagley's Braided Rug looks familiar sitting in the center of the far gallery space. If it weren't for the white plinth that displays it, it could almost be an elaborate floor decoration. An investigation of man's relationship to his possessions, Bagley's rug takes the familiar and alters it slightly with unexpected details: a ponytail concluding the braid shows the rug to be made from human hair.
Sharing the gallery with Bagley's Braided Rug, TJ Hunt's Breaking Ground II sits directly on floor. Mounds of soil, of various ochre and brown, proudly display mirrors in a neat grid formation, referencing Robert Smithson's earth-and-mirror works from the 1960s. As viewers explores the piece, the disjointed figure reflects back to them. Accompanying the floor installation are photographs of the private sites the soil was taken from. Although these images serve an explanatory purpose, they risk over-explanation. The installation functions so well on its own; it holds its place within the broader conversations of contemporary art while maintaining something personal, a reflection of self.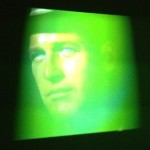 Ivan Lozano's video installation Paul (For Peter and Luke) fills a darkened room isolated from the shared gallery space, offering two experiences, a serene western landscape contrasted with a surging projection of Paul Newman. The landscape's representational falsities are intensified through the digital regurgitation of images of Paul Newman, sporadically interrupted with green flashes.
Finally, Linda Pace's Mirror Mirror catches you as you walk out the door. Mirrors in an elaborate mosaic pattern cover an igloo-like dwelling. The piece is inviting, begging the viewer to crawl in and spend hours underneath the broken reflective surface. The materials quite literally and metaphorically encourage a multifaceted reflection.
The TX Biennials New and Greatest Hits is a successful survey of the creativity that inhabits TX. It is on view at Big Medium's space at The Canopy through September 28.