I'm afraid it's more group shows this week. In last week's comments I revealed the secret formula I use to compile these lists, and admitted that one of my weaknesses is eternal hopefulness that the next big trawl will haul in some treasure.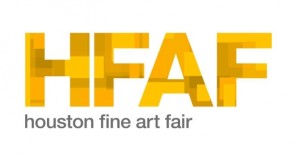 1. Houston Fine Art Fair
George R. Brown Convention Center
September 19-22
The biggest net of all brings dozens of galleries to cubicles in Houston's George R. Brown Convention center. A strong Korean contingent along the back wall offers interesting East-Asian pop. Proliferating visitors from Brazil and Latin America add a middlebrow dimension to the current craze for Latin American Art. Houston galleries get the corners: Gabriel Martinez's Alabama Song in the upper right, Devin Borden anchoring the lower left. This weekend, HFAF features panel discussions, a re-screening of the Bert Long, Jr. movie,  and art aplenty. With free passes swirling in the air like snow, there's no reason to miss it!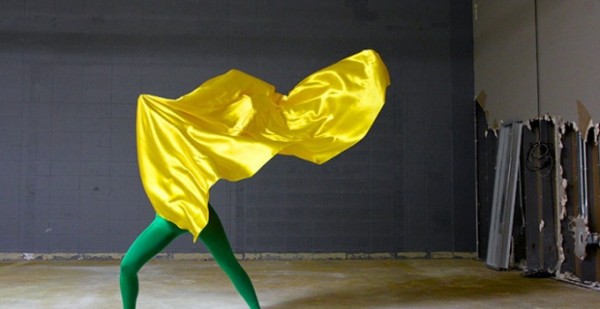 2. Moving/Still: Recent Photographs by Texas Artists
FotoFest and Houston Center for Photography
September 20-December 7
Opening: September 20, 6-8 pm at Fotofest
Opening: Saturday, September 21, 6-8 pm at HCP
Kerry Inman of Houston's Inman Gallery nets twelve Texas artists whose works, the press release says, involve ritual and performance with nature as a character,  but that could mean anything. They are: from Houston: Jeremy Underwood, Linarejos Moreno, Megan Badger, Miguel Amat, and Keliy Anderson-Staley; from Austin: Susi Brister (who also has a show on at Houston's Lawndale Art Center), Elizabeth Chiles, Hector Hernandez, and Barry Stone (who has a show up at Art Palace); Jesse Morgan Barnett and Paho Mann from Dallas, and Armando Alvarez from Edinburg. It's the fifth installment of the FotoFest series Talent in Texas.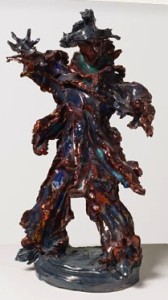 3. Return to Earth: Ceramic Sculpture of Fontana, Melotti, Miró, Noguchi, and Picasso
Nasher Sculpture Center
September 21-January 19
Modern artists get their hands dirty. Forget the ubiquitous Picasso pots (a woman is sorta shaped like a vase—who knew?) I'm especially anxious to see Lucio Fontana's baroque figurines. Coming off the recent Ken Price retrospective (all of whose pieces are big ol' weird pots, whatever they say), the Nasher is molding itself into one of the nation's premier venues for ceramics! Maybe they don't fade so easily.

4. Open Studio: Every Person Is a Special Kind of Artist, with Baggage
Ballroom Marfa
September 14-November 9
Commissioned by the Texas Biennial, The Dallas Collective, (SMU prof Michael Corris, and  student-collaborators) have put together a show of charity tote bags at Ballroom Marfa. Produced as part of a first-year class project, the installation includes contributions by William Binnie, Soraya Abtahi, Jenna Barrois, Ellen Smith, Alexandra Monroe, Dylan Wignall, Rhyanna Odom, Nina Davis, Elainy Lopez, Hannah Tyler, Michael Deleon, and Braeden Bailey, Kelly Kroener, Travis LaMothe, Michael M. Morris, and Melissa Tran. Billed as a systems-based artwork, Ballroom Marfa illustrated the piece with the above fragment of computer code, but SMU's more informative and eye-friendly website chose these: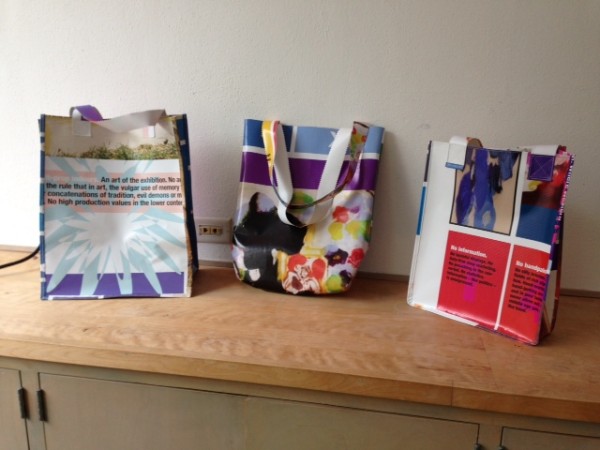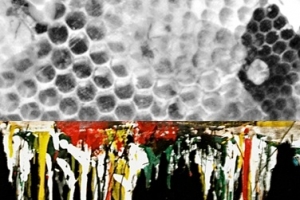 5. Barnett Collective
UP Collective, Austin
September 14-October 6
A community of artists from Abilene showcased at a community of artists in Austin.  Nine Abilenians represent their culture-filled city: Anthony Brown, Russell Ellison, Linda Fawcett, Saybra Giles, Anthony Huff, Mary K. Kiel Huff, Linda Murray, Steve Neves and Sharon Rathbun. Anyone in Abilene with the initiative to organize their own show in Austin deserves a look—see subsection 3(a) of my formula, pertaining to youngsters who are trying.