On Thursday, September 5, CentralTrak brought Ira Greenberg and Paul Fishwick, two local professors, to speak on "Creative Computing," at the first of the fall season's Next Topic lecture series.
Greenberg is Associate Professor at Southern Methodist University and Director of SMU's Center of Creative Computation. Fishwick is Distinguished Endowed Chair of Arts and Technology and Professor of Computer Science at University of Texas at Dallas.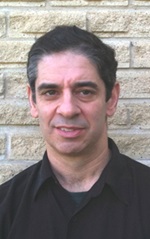 Ira Greenberg from SMU is one of the leading experts on Processing, a computer language designed to help creative people code. The project's website playfully describes its goals: "Processing seeks to ruin the careers of talented designers by tempting them away from their usual tools and into the world of programming and computation. Similarly, the project is designed to turn engineers and computer scientists to less gainful employment as artists and designers." Frustratingly, almost no time was dedicated to this language, its merits and/or pitfalls. He didn't show us a single thing he made using Processing. I think he ran out of time.
Instead, Greenberg spent too much time showing us his old work, including some phenomenally bad paintings and some early digital work that looked no better than what gets kicked out by music visualization software.
Greenberg walked us through the work he had on his website, most of it several years old. The reality may be that he has spent a lot of his time recently working on books on programming. We heard some philosophy at the end about art and code. One question that stuck out was whether coding is a necessity for artists going forward, or is this moment just a blip?
It was an unpolished presentation. Greenberg was a nervous presenter. There could have been something dragged out of him, but we would have needed a couple hours. There were a bunch of older dudes that I have never seen at an art thing; I assume they were computer science professors. Greenberg said that he was very dissatisfied with the way Photoshop and Illustrator make perfect lines, soulless. He wanted to find a way to make computer art drip—that was probably his best line.
When you look at Greenberg's work, it's very much computers doing what computers do, and it's boring because of that—it doesn't engage it in a sideways way like Jeff Elrod does. He's probably a good teacher, but I wanted him to teach me something, and he didn't.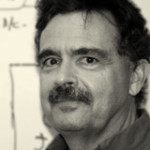 Paul Fishwick is a guy who has a very rudimentary understanding of art and art history. He is basically an evangelist for the beauty of math, and systems of equations as a way to model phenomena. He referenced several artworks by Bernini, Magritte, and Mondrian but does not seem to know any art history after 1950. To illustrate the beauty of topology he showed us the same images we always see—the donut, and that double donut thing. If you're stoned, or nineteen, maybe those are interesting, but no adult who understands about art cares about them.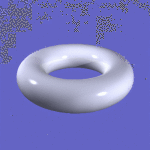 He really wants to believe that mathematical abstraction and artistic abstraction are the same thing. He was obsessed with the idea of abstraction being a many-to-one relationship; he thought that when people view abstract paintings, they take away from it whatever they like, and that in representational art, they don't. Basically, an unsound mathematical way to talk about art viewing.
The big problem with a lot of computer art people is that they don't understand aesthetics; they just have shitty taste. I'm pro-beauty. I'm on the Dave Hickey team. Fishwick showed us an image of the predator-prey model by one of his students, which was supposed to simplify it, make it visual, and maybe did, but it remained a really ugly image. Don't get me wrong—I believe it's totally possible to make an awesome art machine that also shows the predator-prey model perfectly, but it would succeed because it was an awesome art machine, not because of its mathematical content. Content doesn't make art. It doesn't hurt, but usually transcendence matters more than the literal representation. I don't think Fishwick understands this. There are probably a ton of worthwhile things he could have told us, but more about computer science than art.
The tools for computer art have gotten better, but the content is still not there. There's some good work, but it's being done on the edges, on Tumblr, in glitch culture; young people are doing it, and they're not necessarily doing it with the idea that they're making fine art. Max Capacity, on Tumblr, is one of my favorites. He's more of an outsider artist, part of a Tumblr world where crazy glitches are cool. Paul Slocum is a good Texas example. He's making works based on algorithms, but they look good because, although he's a high-level computer guy, he's got a sense of aesthetics, too.
There is beauty in code and equations, and good art can be made with and about them, but we certainly did not see any of it during these talks.