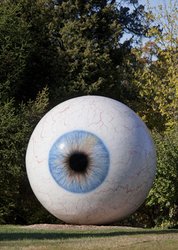 A giant human eyeball has arrived in downtown Dallas to be installed across the street from The Joule Hotel, whose impressive contemporary artwork collection was featured a couple months ago in the New York Times.
Originally commissioned as part of the Chicago Loop Alliance's Art Loop program in 2010, Eye, by Chicago-based artist Tony Tasset, was acquired by Headington Companies, owner of The Joule. Now, it's "a place-making space," according to a Headington Companies spokesperson. "A temporary exhibition space for a significant art installation seemed like a great way to achieve that while further developing a sense of art and culture in downtown Dallas."
The 30-foot-tall sculpture is meant to conjure up ideas of knowledge, power, pop culture, and surveillance, with a huge playland ick-factor. It should be great for tourist photo-ops, except that the final installation (in 10 days) will include a fence.