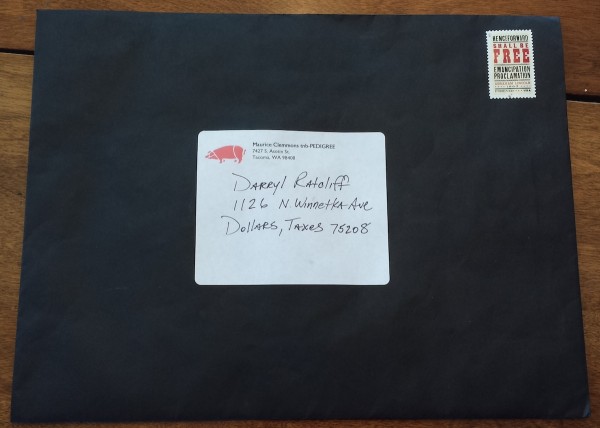 Black artists have to deal with the phrase "black art." Black artists can go through their undergraduate studies, and especially graduate school, without encountering many (or, sometimes, any) professors or fellow students who look like them or share their cultural upbringing. A professional black artist has to deal with the same fact in relation to most gallery owners, professional curators, professional critics, collectors, and museum staff. In the contemporary art world, whenever black artists aren't being ignored, they stand out.
This is especially true for artists who happen to be both black and male. Recently in Dallas, Fahamu Pecou's How To Eat Your Watermelon at Conduit Gallery, Riley Holloway's Shook! at The Fairmont Hotel, and The Nigger Bankzy's performance piece The Black Letter all dealt, with varying degrees of success, with what it means to be a black artist in a mostly white art world.
Bankzy's Black Letter is an anonymous letter that was deliberately taped on the doors of galleries in the Design District. The letter came in a black envelope, with a stamp commemorating the Emancipation Proclamation, and a custom address from one Maurice Clemmons tnb-PEDIGREE, with a red pig in the corner and a Tacoma, Washington address.
Inside the black envelope was a business card using the red pig as a logo, a two page letter printed on matching red pig letterhead, and a custom  bumper sticker all held together by a single red paperclip. As an object, the Black Letter was designed and delivered with care. There was nothing accidental about any of it and, for some, that made its contents even more disturbing.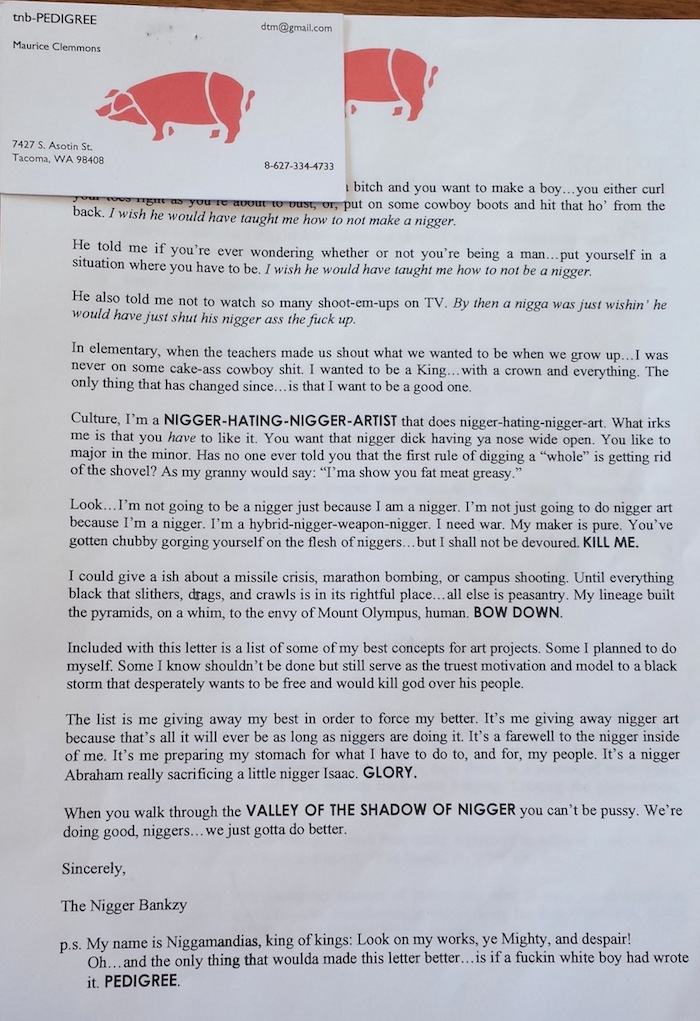 The Black Letter starts off "Dear Culture." It contains a loose mission statement on page one, and a list of ten concepts for art projects on page two. The tone is aggressive, confrontational, and contains 47 words that could get you fired from your job. It is also funny, bitingly satirical, serious, misguided, and at times brilliantly clever.  If the letter is racist, then at least it doesn't hide behind soft bigotry. I am 98% sure that the artist behind The Black Letter is young, black, and male. Whether there were ghost writers who were not black is more uncertain, but definitely possible.
The response to The Black Letter has ranged from anger, concern, fear, bewilderment, and intrigue. For a week the letter produced chatter amongst the gallery elite in a manner few pieces have. Many wanted to figure out where this letter came from, what it meant, and who was behind it. Yet, ultimately The Black Letter was dismissed, even by those gallerists who recognized its merits. Who wants to risk stepping into the ant pile of race?
I don't think The Black Letter is perfect. First of all, in terms of the letter as a serious proposal, fictitious emails don't get real shows.  I'm not a fan of the n-word and derogatory slurs against women, and sometimes the letter crosses the fine line between intentionally shocking and overkill. Yet, the language is no worse than an uncensored rap song, and a few of the proposals would certainly be interesting.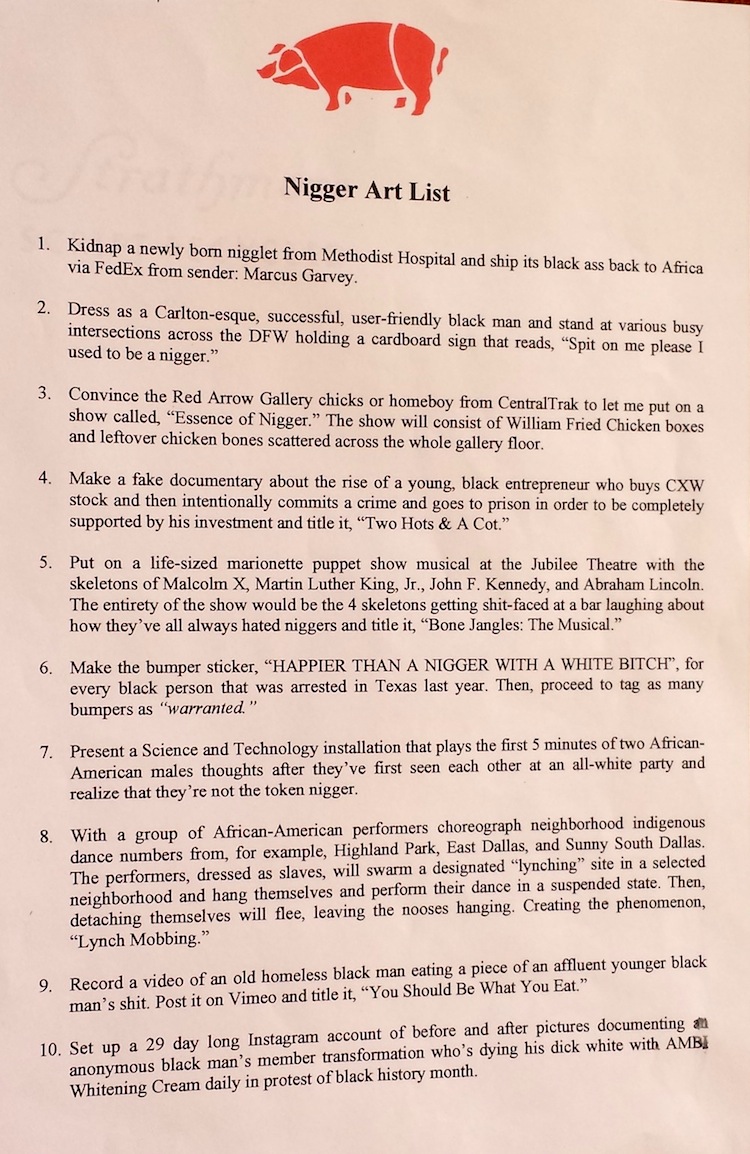 Although shocking, the reason why works like The Black Letter do not receive critical attention is because it is easier to simply not talk about them. To whisper in hushed tones. To move on. For two years, I've heard very smart people in Dallas say we need more transgressive art in this city. Like it or hate it, this is what transgression looks like. The Black Letter pushes the bounds of propriety, is aggressively personal, political, racially charged, and confrontational. For me the burning question isn't whether or not the letter is racist, but why a young black artist would feel that this letter was the best way to get the attention of the contemporary art world he clearly, desperately wants to be a part of?
The burden of being young, black, and male can be deadly. In the wake of the verdict of the George Zimmerman trial, black families wrestle with what to tell their black sons about how to carry this burden. The value of a piece like The Black Letter is that it challenges the viewer to consider a perspective that is often overlooked in contemporary art discourse. Whether or not one agrees with the message, the emotion in The Black Letter—the anger, the self-aggrandizement, and the fear—is representative of what many young, black men and boys in America constantly process through. The greatest success of The Black Letter is channeling this emotional reality into a physical object and confronting a gallery world, which in terms of race, prefers the polite over the provocative.