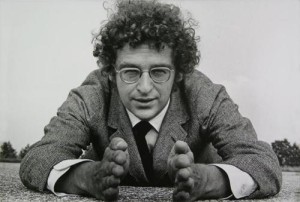 Minimalist artist, sculptor, and sometime musician Walter De Maria died yesterday of a stroke at the age of 77. Best-known for The Lightning Field (1977), a mile-wide land-art piece in Western New Mexico, De Maria has a number of long-term monumental art installations still on view through his long relationship with the Dia Art Foundation, including The Broken Kilometer  (1979) and the New York Earth Room (1977).
Born in California in 1935, De Maria studied art and history at UC Berkeley and, with his friend, avant-garde composer La Monte Young, participated in Happenings and theatrical productions in the San Francisco area. After moving to New York in 1960, his Dada-inspired sculptures became more Minimalist and he began to use industrially manufactured materials such as stainless steel and aluminum. In 1965, De Maria also became the drummer in the New York-based rock group The Primitives and an artist/musician collaborative group called The Druds, which included Lou Reed and John Cale and was a precursor to The Velvet Underground.
De Maria tended to avoid participating in museum shows, preferring to create his installations at unconventional locations. This is likely the reason that he is not more well known to the general public, although he has long been championed by many fellow artists and critics. De Maria's first major U.S. museum exhibition, Walter De Maria: Trilogies, was presented by the Menil Collection in late 2011, organized by the artist and Menil Director Josef Helfenstein.