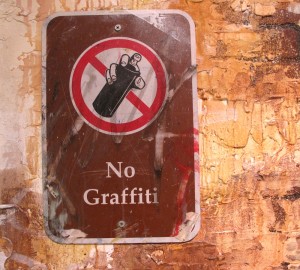 Call it Street Art, Call it Fine Art, Call it What You Know is the Station Museum's current graffiti show, but whatever else it is, it's popular art: big, vulgar, colorful, self-aggrandizing and strangely reactionary. Simplistic politics are married to an unsophisticated preoccupation with technique. That's the medicine you've got to swallow before you can begin to appreciate the upside of this exciting, optimistic show.
Like 19th-century academicians, street artists take a jealous pride in their drawing skills, their mastery of elaborate proprietary styles, and in their public reputations. Their close community and intense rivalry is possible because, like those old academicians, they share a narrow, communally defined aesthetic. And, as in old times, the best of them use convention as a springboard for fresh expression, while lesser artists rehash their genre's clichés.
I'm not going to go into the motivations behind the works, the scene in which they happen outside of the gallery or the biographies of the artists because I don't know much. Plain facts about quasi-legal art activities are hard to come by. Even the artist's names are mostly pseudonyms. Looking at the art doesn't give you the whole story, but it's the part that makes all the rest important, so here goes:
NEKST by VIZIE is a masterpiece of intricate lettering painted across three walls of the foyer. It's is the alpha and omega of the show, linking the varied styles of wall painting on display to their roots in tagging, and adding a bittersweet nod to NEKST, a renowned graffiti writer whose career began in Houston, and who died young and tragically last year. Fueled by the Internet, tributes to his short life and ballsy works are possibly even more widespread than his works themselves.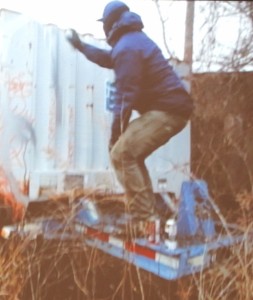 In the adjoining cubicle, KC Ortiz's five-minute video tribute to NEKST includes an instructive time-lapse documentary of VIZIE painting a NEKST tribute similar to the one in the gallery and dozens of stills of NEKST pieces and homages from around the world. The video isn't especially moving, but it points out how, broadcast to an enthusiastic international audience through the Internet, the impact of significant street-art work can go far beyond the local. Incidentally, the video also demonstrates step-by-step how some of VIZIE's effects are produced using modern, specialized spray cans.
On the street, every wall is unique, contributing texture or pre-existing imagery, or at least location. The Station Museum show brings street art indoors, handing the artists big, blank gallery walls to paint on. It's an unfamiliar problem, which they handle with mixed results.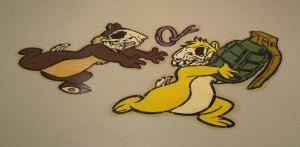 As befits artists who specialize in applying their works onto available surfaces, some of the best pieces are frankly graphic; pieces by ACK!, EYESORE, VIZIE, The Death Head, Ana Maria, and Anat Ronen remain aloof from one another and from the walls they're painted on, like peel-off stickers ready for installation anytime, anywhere. The Death Head's skull warrior/chipmunk piece is literally a sticker applied to the floor.
Pieces by Skeez 181, DUAL, Tatum1, and Sebastien "Mr. D" Boileau all begin lovingly with a central face, then make the classic mistake of filling in the rest of the wall with distracting, halfhearted trivia, just because there's room. Boileau's insanely detailed faux-brickwork, and the myriads of tiny tags embedded into Picasso's face make his piece a joy when seen from two feet away, but from across the room, it's just so-so photorealism. SODE's mural seems stretched, exploding outward from a mystical pyramid only to trail off into an indifferent sci-fi starscape.
DECK WGF, and EMPIRE I.N.S. take an additive approach, treating their walls like shopping baskets, loading them up with one image after another until they're full, leading to rambling compositions. DECK stays mostly on-topic, combining caricatures of Supreme Court justices, flags, tags and captions into a pointed political cartoon about the second amendment. EMPIRE's sprawling piece juxtposes a vampire kid videogaming, perhaps controlling drone strikes on a mujahedeen via a hefty dose of the juicy 3-D scrollwork that seems to be EMPIRE's real interest, but it doesn't gel.
Daniel Anguilu's mural stands alone in its ability to grab a room and transform it. His intricate, crystalline cityscape unrolls elements from Russian churches, fairytale birds, and woodcut printmaking across three big walls with the boiling energy of whitewater. Lee Washington's stark floating head of Hugo Chávez, painted on an adjacent wall, presides over this chaos like the Wizard of Oz. Nowhere else in the show is there the same synergy between adjacent pieces, or between the pieces and the space in which they are installed.
Anguilu's technique, though flawless, isn't unusual. His imagery, though inventive, isn't unique. His scale, though bold, isn't impossible. What gives Anguilu's work twice the wall power of his contemporaries is the way it actively uses the space. The show's other rooms have pieces painted in them or on their walls, but Aguilu's room IS his piece. It's difficult to imagine the space without it.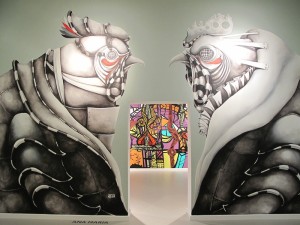 Ana Maria's enormous steampunk chickens and Anat Ronen's squirtgun-carrying soldiers are moderately skillful illustrations, but they seem too delicate for the street. Their three-dimensional realism denies them the punch of flatter, more graphic works, and makes them seem like magazine pages expanded to mural size.
Angel Quesada is an oddball, painting a comparatively modest, pastel abstraction like a multi-mandala, using brushes and liquid paint. Fringes of overlapping drips that in an easel painting would be a familiar gimmick here seem radical. In contrast with the funhouse grotesquerie of most of the show, the piece has a sweet, hippy-dippy optimism, despite the floating eyeballs.
Combining grotesque horror imagery with pinups and children's cartoon characters, The Death Head executes these expectable ironies with professionalism approaching that of the commercial studios that originated them.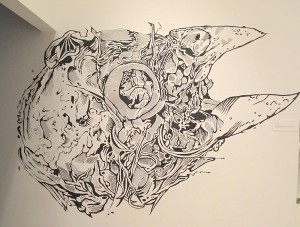 EYESORE displays formidable graphic fluency in a pair of large semi-decayed bird heads that are too technically pristine to be disgusting, their ragged flesh lovingly rendered in a pseudo-woodcut style familiar from decades of underground comix.
ACK!'s signature drooling boy is iconic in Houston, and appears at the Station museum still hungry. Part Powerpuff Girl, part Peter Bagge, the boy's gluttony is given a political twist by a bag of junk food pattenred like the American flag next to his bloated blue body.
Like I said, it's big, vulgar, colorful work, but to make a dent in the urban landscape, it's got to be. Big for a big city. Vulgar, to match the vulgarity of the advertising art with which it competes and collaborates. Colorful to contrast with the beige they seem to be painting everything these days. What it lacks in subtlety, it makes up for in entreprenueurial spirit.
It's the summer for graffiti in Houston galleries: Call it Street Art . . . continues at the Station Museum through August 25. Meanwhile, commercial galleries are taking notice. Peveto will open FUNKMOTOR, its own street art showcase, featuring Daniel Anguilu, Dual, Empire INS, and Lee Washington, and others, on July 13.