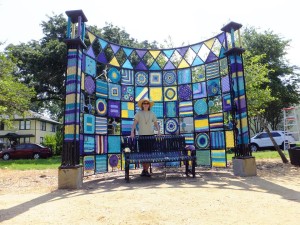 To celebrate International Yarn Bombing Day, Houston Heights resident Mary Goldsby coordinated a yarn installation to cover a metal structure that stands on Heights Boulevard between 16th and 17th streets. Yarn bombing is often installed guerrilla-style, creating warm and fuzzy surprise graffiti in unexpected locations, but Goldsby actually got a permit from the Parks and Recreation Department and enlisted a couple dozen volunteers for the project on June 8. Permission was granted for the public art project to remain on view for a month.
On Saturday evening, though, a vandal dismantled it and threw it all in a nearby trashcan. According to the community newspaper The Leader, two witnesses later came forward: one described her as a woman between 40-50 years old who seemed "angry" and another reported "an older woman, shrieking in anger as she did it…she seemed pretty crazy."
Crime Stoppers is now offering a $500 reward for information leading to an arrest in the vandalism. A banner with the 713-222-TIPS number has now been posted on the structure.