There's the Kite Festival, the Reggae Festival, the Hot Sauce, the Book, the Bat and the Beer Festival. You name it, Austin has a festival for it. And yet, until recently, there was no home for enthusiasts of DIY modular synth fabrication, no gathering place for fans of avant garde compositions for the player piano. To say Church of the Friendly Ghost fills a niche market is an understatement.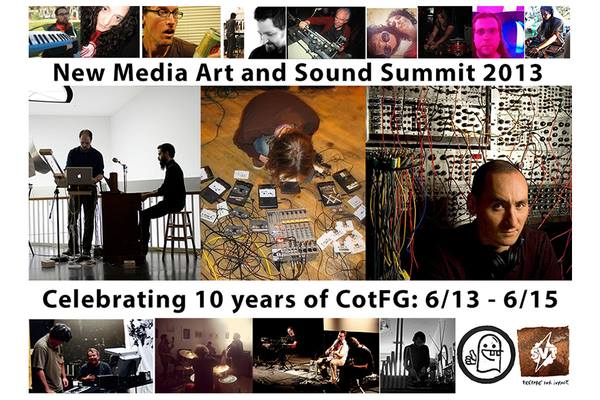 Church of the Friendly Ghost (CotFG) is marking a decade of experimental music and arts programming with its third annual New Media Art and Sound Summit (NMASS), starting tonight.
The three-day program features hybrid art events from local artists and notable out-of-towners. Not every circuit-bending, tape-looping, harmonium-playing performance will be your cup of tea, but trust in the Friendly Ghost, for these folks have a knack for the odd, the maddening and the mind-expanding. The festival kicks off on Wednesday evening, June 12, at 7:30 p.m. with an interactive aural experience on the shores of Lady Bird Lake.
Thursday,  the first full evening of NMASS programming happens at Salvage Vanguard Theater, presented in collaboration with Experimental Response Cinema (ERC), Austin's (relatively) new artist-run film and video collective. Thursday night's program is a group screening featuring the work of local filmmakers, many of whom work in 16mm using hand processing techniques, or found footage and collage techniques. These artists are united by a certain engagement with the past, be it formal or conceptual. Scott Stark, ERC founding member, creates hypnotic 3D flicker effects from found stereoscopic images. His film Speechless (16mm, 2008) uses images from a 1970s clinical textbook on the female reproductive organs as a jumping off point to explore texture and movement. For the second ERC program, 2013 Texas Biennial artist and Dallas native Michael Alexander Morris will present several of his works on film and video. Morris explores the limits of memory, the accuracy of history, and the fallibility of the recording devices on which we have come to rely. His film Fires (35mm on HD, 2013) is a meta-meditation on impermanence: the film stock the artist used was discontinued in the middle of production. Confessors (8mm on digital video, 2010) is a personal essay on film, exploring family history through the Super 8 film left to the artist by his grandparents, considering in particular one mysterious canister labeled "x-rated" that represents both the knowable and unknowable of those closest to us.
Friday, June 14, NMASS hosts a modular synth show-and-tell, about the coolest electronic music geek-out session I can think of— B.Y.O. headphones! Concurrently, sound artist and professional electronic thingamajig maker, Thomas Fang of the Bleep Labs, will lead a workshop in modular synth construction. Afterward, the possibilities of modular synth symphonics will be heard with performances by Austin-based musicians including Fang, Rick Reed and others, culminating with a performance by Richard Devine, veteran electronic and computer music composer from Atlanta.
Saturday morning, June 15, starts off with brunch and a series of events focusing on the enigmatic 20th century composer Conlon Nancarrow. An American expatriate living in Mexico City for over fifty years, Nancarrow stopped composing for human musicians in 1947 and began composing exclusively for player piano, creating intricate and stunningly complex rolls that only custom fitted pianos could tackle. Though a friend and contemporary of John Cage, Nancarrow lived out his life in relative obscurity.  Dr. James Greeson, musician and scholar, will present a documentary on Nancarrow's life, with a "performance" of Nancarrow's compositions to follow, on the only available format: a 1987 Yamaha electric player piano that reads midi files off of, of all things, floppy disks.
Nancarrow's work will ring out in the gallery of Salvage Vanguard Theater under the third iteration of Tesseract, an installation from the collaborative team Clay Odom, Sean O'Neill and Adam Owens. Tesseract molds the social space of the gallery, which doubles as a lobby, with reflective, flexible, and responsive material suspended from above that moves with the ebb and flow of audiences through the space. The artists create a space where the undulating silver waves of Mylar above reflect both the viewer and the sound waves from the performances in other rooms that are channeled, processed and projected onto the installation.
Highlights for Saturday afternoon include the duo Coppice from Chicago, a group that often works in collaboration with visual artists to create soundscapes for installation or performance art work. Constructing or manipulating many of their own devices, Coppice modifies instruments like accordions to make them sound like sad, strange breathing machines that wheeze and sigh in beautiful syncopation. Later in the day, The Dialtones, led by musician and artist Lauren Gurgiolo, will present the multi-media project Calculated Carelessness. Using a three screen projection set-up, the project explores Søren Kierkegaard's The Seducer's Diary through accompanying video which plays in endless permutations along with the music.
NMASS closes with another 2013 Texas Biennial artist, Skye Ashbrook. Ashbrook's influences include the abstract, staccato visual style of Stan Brakhage, and the loose, diaristic voice of Jonas Mekas, while managing to feel fresh, interesting, and contemporary. Ashbrook uses collage, composition and shape to a great effect. His piece for NMASS, Decline, will ruminate on the liminal space that opens up in the wee hours of the morning, when it's too late to go to sleep but not early enough to get up. Both a musical performance and video installation, the performers and the audience will be able to view a clock counting the minutes as they slip by, drawing the evening to a close and the festival to an end.
The New Media Art and Sound Summit takes place over three days, June 12-15 in Austin, TX. A complete schedule of events is available for download here.