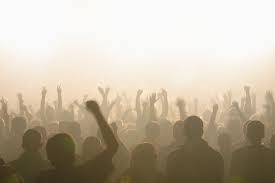 Various forms of crowdsourcing have been around forever, but no one really knew that they were doing it until 2006, when editors at Wired Magazine coined the word and defined it: "crowdsourcing represents the act of a company or institution taking a function once performed by employees and outsourcing it to an undefined (and generally large) network of people in the form of an open call." Now, everyone is in on it, even museums.
CROWDFUNDING
The most practical form of crowdsourcing is crowdfunding, through web sites such as Kickstarter and Indiegogo. There have been some success stories, such as former Scrubs star Zach Braff recently raising $3.1 million to make a film sequel to Garden State. Museums love fundraising success stories.
This week, the Freer-Sackler Museum (the Smithsonian's Asian art) launched a $125,000 crowdfunding campaign to help pay for an exhibition called Yoga: The Art of Transformation. The thinking is that crowdfunding would work especially well with the yoga crowd.
As Judith H. Dobrzynski pointed out in her ArtsJournal blog, this kind of fundraising is tricky; public failure does not boost the confidence of future donors. About a year ago, the Hirshhorn Museum used Causes.com to raise money for an Ai Weiwei exhibition, setting a goal of $35,000 and got a mere $555. The CAMH fared much better than that with its "Bring Andy Warhol to Houston" campaign, but the $5,300 raised fell far short of the $32,000 goal.
Scanning the crowdfunding sites, there a number of success stories for Texas arts organizations. San Anto Cultural Arts, Austin ArtWheels, Blue Star Contemporary, and the Blaffer's presentation of the Museum of Broken Relationships all exceeded their goals, but then their goals were more modest than those listed above. If a modest budget is the key, then what explains the "Let's Build a Goddamn Tesla Museum" campaign? They set a goal of $850,000 and received $1,370,461. Maybe they got some momentum from a certain wackiness factor, but then that wouldn't explain London's UFO Museum, who only raised $370 of its $970,000 goal. Crowds can accomplish miracles, but they can be fickle.
CROWDVOTING
In another Dobrzynski blog this week, she reports that the Georgia Museum of Art has decided to let visitors choose which works to deaccession. They have five works by the French artist Bernard Smol (1897–1969) and have decided that they really only need one. According to the exhibition description (yes, it's an exhibition called Deaccessioning Bernard Smol), "Visitors will be able to vote on which one they would like the museum to keep, and the curatorial staff will take those votes into consideration." It then says the paintings are "of comparable dimensions, styles and significance," so it's too hard to decide what to sell "except for a difference in their exhibition histories and the ways in which they entered the collection."  Who needs fancy curators when the paintings just all look alike anyway?
When the Smithonian's National Portrait Gallery got in hot water in 2011 over their decision to remove David Wojnarowicz's 1987 video "A Fire in My Belly" from a group exhibition exhibition, a Smithsonian panel organized to study the controversy and "suggested that the Smithson­ian provide an opportunity for the public to weigh in at 'pre‐decisional exhibit planning phases.'" Robin Cembalest said in an ARTnews article at the time, "Opening exhibition preparation to crowdsourcing is not a way to anticipate controversy—it's a way to assure it."
CROWDSOURCING CREATIVITY
Okay, there are a bunch of pretty cool projects created through crowdsourcing, like Swarmsketch and the One Million Masterpiece. Learning to Love You More started up in 2002, posting assignments from artists Miranda July and Harrell Fletcher to crowds across the globe. July and Fletcher made crowdsourcing cool before crowdsourcing was a word.  Aurora Picture Show Founder Andrea Grover, who has curated a number of crowdsourced exhibitions says that the collective spirit, the amateur's passion, and relative anonymity of crowdsourcing makes people "more apt to reveal themselves."
Komar and Melamid's People's Choice series (1994-1997) investigated crowdsourcing even earlier. The artists commissioned polling companies in 11 countries—including the United States, Russia, China, France, and Kenya—to conduct scientific polls to discover what they want to see in art. Intended to free the artist from the burden of creative authority and to mimic the democratic process, they believed that the public was an adequate judge of good art.  But after many polls with the same generalized results ("the same blue landscapes"), they realized one side effect of overcrowdsourcing: "Looking for freedom, we found slavery."