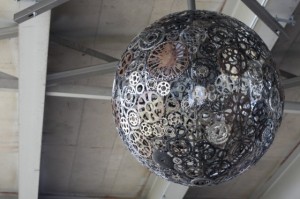 San Antonio has a cool, new public community gathering space. "Ballroom Luminoso" is located under the I-35 overpass at the intersection of Theo and Malone Avenues. The light art installation is a series of globes created from recycled bicycle parts, custom LEDs and steel. The "projective chandeliers" throw shadows, color, and light into the little-used space and transforming in into a kind of elegant, outdoor freeway disco.
"Ballroom Luminoso" is the first project completed by Public Art San Antonio (PASA) as part of the city's 2012-2017 Bond Program. PASA's public art program is set to create 25 projects all around the city.
The creators of this particular project are Joe O'Connell and Blessing Hancock, two Tucson-based artists. They have also recently installed an interactive light sculpture area at TSU and are working on another huge underpass project, this time in Dallas. Called "Empire of Giants," it will be located near the arts district and Deep Ellum.