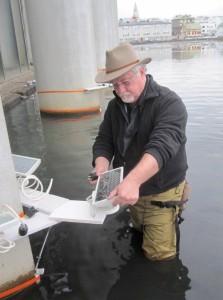 Bill FitzGibbons, Executive Director for the Blue Star Contemporary Art Museum for more than 10 years, will resign that post effective June 15th. FitzGibbons will remain as director of special projects on a reduced-hours basis.
"We will miss Bill as Executive Director, but look forward to his continued involvement with our special projects and supporting our mission," said Ed Valdespino, Blue Star's board chair. "Under his leadership, Blue Star has tripled its budget, developed a thriving high school art program (MOSAIC), shown hundreds of local, regional and international artists, initiated a residency program in Germany for San Antonio artists and returned over $500,000 to San Antonio artists through its fundraisers."
FitzGibbons' step-away coincides with a spate of new commissions for the prolific public artist. According to Valdespino, FitzGibbons has "18 months to 2 years of work lined up," with one major project in Birmingham, Alabama and "he can only be in one place at a time."
The Board has named a committee to begin the search for a new executive director, which may take 3-6 months.