When did modern art arrive in Houston? The thought-provoking timeline put together by Caroline Huber and The Art Guys a few years back for "No Zoning: Artists Engage Houston" at the CAMH puts it in 1930 in the basement of the Beaconsfield Hotel on Main Street, where the Houston Artist's Gallery showed the earliest examples of Houston Alternative Art. Rice librarian and curator Randy Tibbits, however, would beg to differ.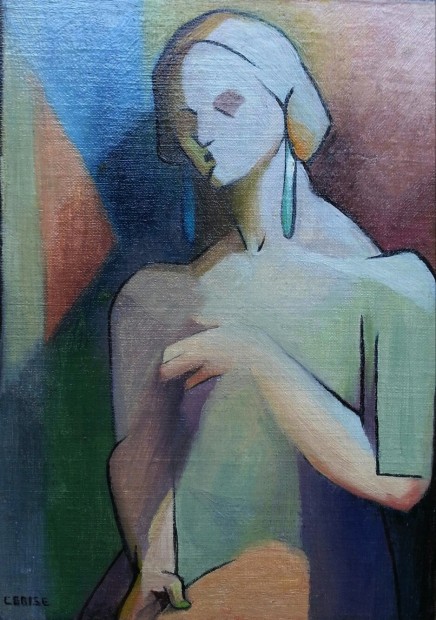 Study for Compositional Space, (1925/6)
 In the exhibition Emma Richardson Cherry: Houston's First Modern Artist at the Houston Public Library's newly-renovated Julia Ideson Building, Tibbets and co-curator Danielle Burns show that Emma Richardson Cherry (1859-1954), a founding member of the Houston Public Art School League (the Museum of Fine Arts, Houston's predecessor) in 1900, and an art educator in Houston for over 60 years, "formed a core of forward-looking artists in the city decades earlier than is generally recognized." For a woman that moved to Houston in 1896, when Houston was little more than a cow town, her resume is impressive: she travelled widely, never ceased her education, and relentlessly worked to get her work exhibited in Texas, across the country, as well as internationally.
Cherry and her work has been a project of Tibbits' for some time now.  Prior to this exhibition at the Julia Ideson building opening in February, he had written a text to accompany a show of Cherry's work in late 2012 at William Reaves Fine Art in Houston, an exhibition that came to pass as a result of a number of Cherry's works returning to the market after decades in storage.
Painted in the coffered ceiling of the Ideson building's impressive Tudor Gallery are four of Cherry's murals. The Tudor Gallery formerly served as the library's circulation desk, but now provides a gateway to the exhibition hall and reading rooms.  The murals feature four historic buildings in natural landscapes: Sam Houston's home during his Texas presidency, the first Capitol of the Republic of Texas, Robert E. Lee's home Arlington, and Jefferson Davis's home Beauvoir.  To see the artist's easel paintings in tandem with her murals works is a pleasure.
But the crux of this exhibition is not the murals, but to showcase the modernist style works that were central to her career. Study for Compositional Space, (1925/6) for example, uses an economy of line to shape the outline of a woman.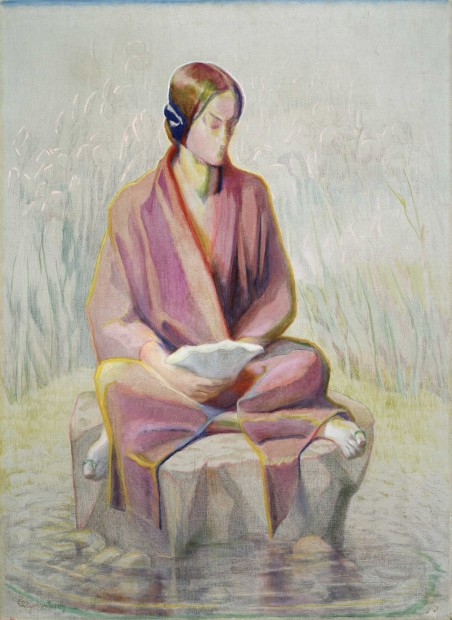 Precious Bowl, (1923) uses a pastel color palette with tinges of neon.  The result is a work that pulls from various modernist tangents, but becomes something original. In works like Red Oaks House Randolph Field her forward-looking approach was not so apparent. In this work, Cherry started with a cubist sketch of a row of houses nestled together along a back street, but painted over it to create a piece that would sell to patrons not keen on the new style, as evidenced by the curators inclusion of the painting's underlying sketch.  The joke here is somehow supposed to be on the patron, but disguising passion and content for patrons is never a laughing matter.
Red Oaks House Randolph Field" ca 1938, Oil on Board, 8×10, Collection of Otis and Nancy Welch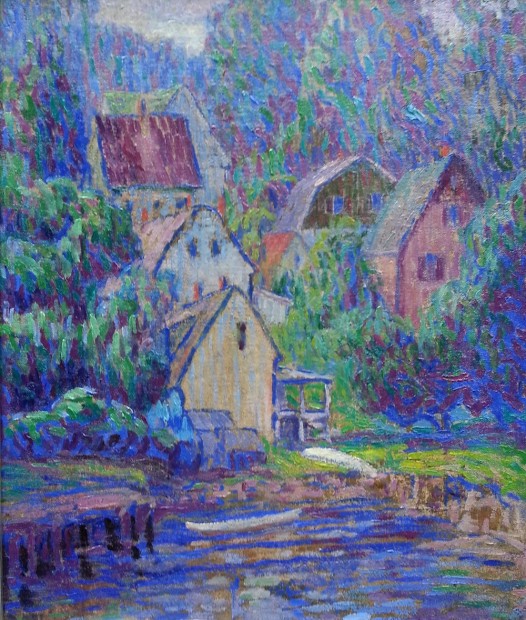 Dull Day On The Cove, 1920
 The show makes much of Cherry's cubist influences, but it's difficult to tell which pillar of modernism she subscribed to. Inklings of Monet are apparent in Sulphurous Pool (1919), as the hazy brushstrokes form a lush view of an isolated body of water. Dull Day on the Cove (1920) is Van Goghish landscape with thick, individually discernible paint stokes.  The show may be sub-titled "Houston's First Modern Artist," but there's more truth to the descriptive label to Dull Day where the curators write that Cherry's "career as a modern artist went from impressionism to post-impressionism to cubism…she brought to Houston what was modern in art."  In short, Cherry had a go at many types of modernist painting styles, but did not necessarily hold any particular ideal fundamental to modernist thought.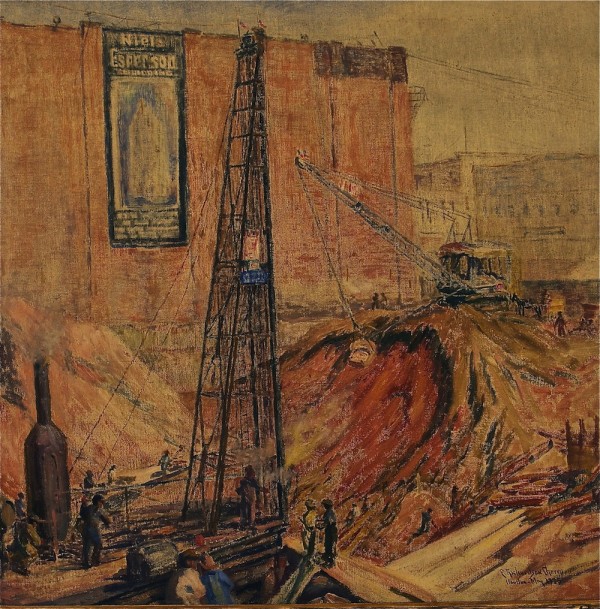 In the Beginning (Esperson Building), 1925, Oil on Canvas, Collection of Bill and Linda Reaves
 Cherry probes some of the modernist movement's concerns with progress and technology in two works that stand out as decidedly different from the many landscapes and still lives on display. In In the Beginning (Esperson Building), (1925) and Buffalo Bayou- Flood Control (1937) Cherry is concerned with the burgeoning culture of modernization in Houston.  In the center of In the Beginning is a massive hole with a crane emerging, and a swell of dirt taking up the foreground.  Pressing the construction into the foreground is a downtown building- not outdated, but surely a building that will not be around much longer in the face of the forthcoming construction.  The perspective is from several feet above the ground, above the digging itself.  It is a perspective that is impossible to have painted en plein air: Cherry is composing an invented view of the city. Focusing on this theme of progress and technology is one of the show's missed opportunities; it's the thread in her work that most resonates with the Houston most of us know today- not the society portrait paintings and international sojourns that the exhibition emphasizes.
Another section of the exhibition looks at Cherry's paintings of flower arrangements, paintings that she considered to be portraits, not still lives.  Cherry was no stranger to portraits, as portraiture commissions were her primary source of income. However, she found portraits of flowers to be more satisfying, for, unlike people who want to be painted as they saw themselves, flowers "are things that are painted just as they are."
The back section of the exhibition is devoted to work by Cherry's students, and her students' students.  Mary Ellen Bute's Synchromy No. 4: Escape (1938) is a riotously colored video that looks like the Pink Floyd's album cover for Dark Side of the Moon run amok.   Also included is Mission Concepción by Forest Bess, the astonishingly eccentric painter whose work is currently the subject of "Seeing Things Invisible" at the Menil Collection.  Did Cherry herself teach these artists?  What kind of community did these artists create outside of the classroom?  What is the expanded history of which this exhibition is only a glimpse?  Maybe the catalogue, with essays by both curators, due out about the time the exhibition closes, will say.
As the arts in Houston and the whole of Texas forge ahead, it's the perfect time to look back into local art histories, connect the past to our present, and bear it in mind as we look to the future of our art community. Cherry's era deserves to be praised, and 2013 is a grand time to be doing so, but equally important is that celebratory exhibitions never shy away from exercising a critical eye.