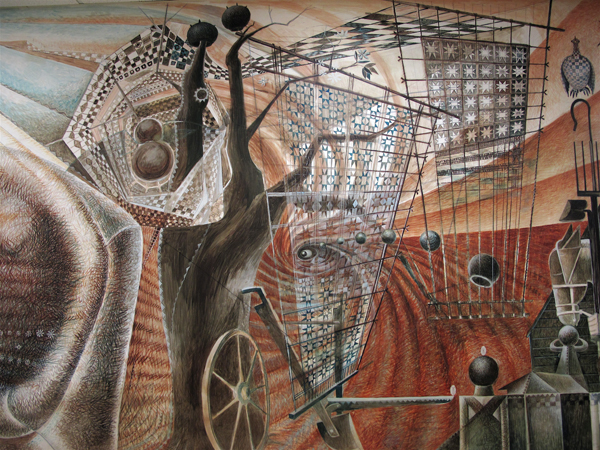 Credit Sequence
-Gray day, I'm on 59, heading down to TSU.  At freeway speed, the weather renders most of the adjacent buildings invisible, only the brightest planes of blue, red, green, and the occasional yellow punch through the grisaille, again and again, in unexpected sequences.  Something's happening around my peripheral vision that is halfway between an assault and a caress. Keisha Cole's on the Box belting out "Trust and Believe Me."  It's appropriate in ways that I don't even care to articulate, the perfect soundtrack to now. Art has to be damn good to compete with this moment. I'm on my way to TSU to look at the Biggers.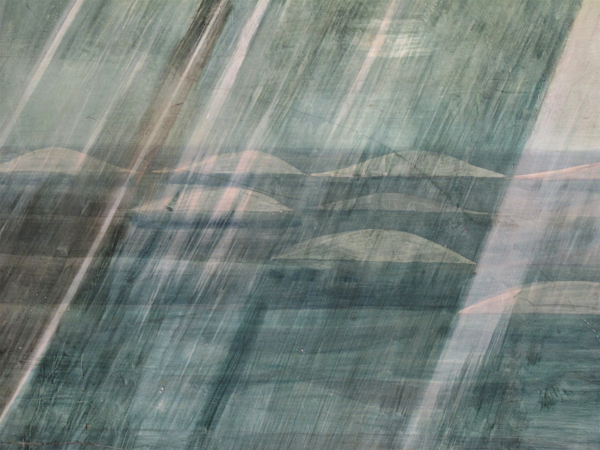 Lady Sybil
-I am not here to see Web of Life, the imposing canvas that has a permanent home at the University Museum. I will eventually make my way over there, but my go-to work at TSU is a fantastic mural in the cafeteria. I am told that it is called Family Unity. There are no markers, no plaques, no didactics, nothing to claim the piece as a sort of special or treasured addition, it is a part of this space no more or less self-conscious then the tables or blinds.
-It doesn't demand attention, but it rewards it. Painted with a light touch and imbued with velocity, it still leaves us with the sense that John Biggers might still come through from the other side and add a detail here, a gesture there; it is a painting in the present tense.  As a composition, Family Unity is a perfectly calibrated series of whorls, but first I get stuck in the individual incidents of the thing, bits of narrative and ritual, little moments of wonder and the strain of work. All of these shards of story only manage to maintain to their discrete nature for a moment, in the next they are bleeding into each other, and in the next joining the current.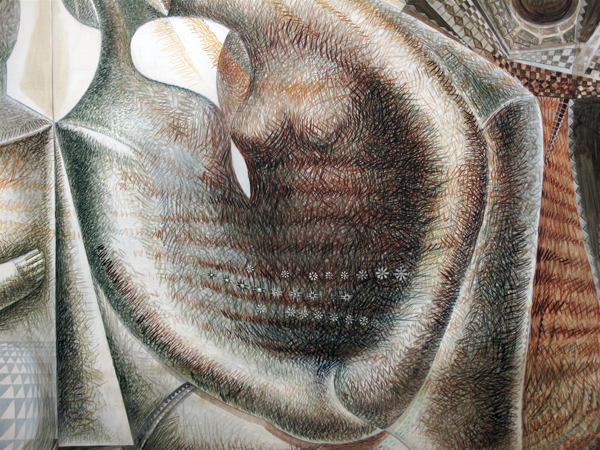 No Tardis for Bourne
-I've been here before. I've come in between academic sessions, turning an empty cafeteria into a makeshift gallery, all silence and reverence. When seen like this, Family Unity holds up. But it's easy for works to feel special in a white cube; all they have to contend with is a short history of money, and the rarified air of a gatekeeper's lair. Nothing serious. This mural is supposed to be part of a more essential and ancient communal activity and I am curious to see how it functions while a nice chunk of humanity is breaking bread.
-Once I finally tear myself away from the mural, I sneak past the lady at the register, hiding my tiny cheap unsanctioned pizza. A group of statuesque athletes facilitate my infiltration (Go Lady Tigers!) with their conspicuous entrance. I make a beeline to the very back and settle for a large empty table with very few remnants from the previous diners. I look up. Wow. I didn't know the piece could look this small. Vying for my attentions are at least four screens of Rick Ross making a convincing case for riches, the steaming plates of barbeque making their way to the other tables (fucking pizza), and the buzz of dozens of spirited conversations. At some point, I am so completely captivated by Tunechi's screen presence (someone better cast him in something is all I'm saying) that the mural, for a short while, goes into soft focus.
-In the hour that I'm here, very few people look up at the thing, but those that do raise eyes extend more than glances.  The piece is brand new to me. In the brouhaha of a regular lunch hour, it is intimate rather than majestic. In the way that it must earn attentions minute by minute it is not a respected relic, but an agent on active duty, unprotected by the time-traveling properties of the white cube.  I'm not claiming any sort of elevated importance for public art, but it does have to put in more work if it hopes to be effective. It is no wonder that we spend so much time tsk-tsking public art, it's a thin cable across the Niagara, success is unlikely.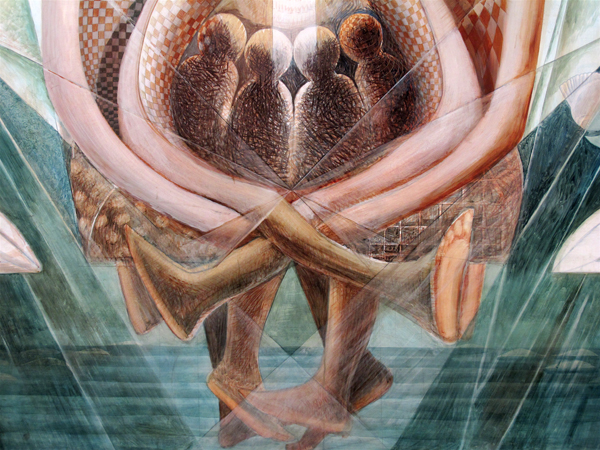 Vs
-I spend a bit more time on campus digesting the viewing.  I like the idea of the piece existing in a space that encourages contention. I think back to all the times Alex Katz mentioned his goal of "knocking the other paintings of the wall." I had always understood this as a bit of daVinci-like machismo, but now I'm thinking that has a lot more to do with testing yourself. Pride sure, but also reassurance in the effectiveness of one's toils, and perhaps a way to keep delusions at bay.
-I make it to the University Museum, and here it is, The Web of Life. It's always there and so is the terra cotta collection accumulated by TSU art's other architect, Carroll Simms. Any show that is installed in here must grapple with the two, and the two must judge themselves against all of the shows that pass through the gallery.  History, tradition, and aesthetics going through a constant relevance check. Art needs to spar.