Art Fairs are the funnest no-fun events in the artworld. Take Dallas, for example: the first thing I saw was this swing, installed on the grassy lawn outside the Fashion Industry Gallery by Nathalie Karg Gallery, along with some nifty benches and an outdoor ping pong table. Fun!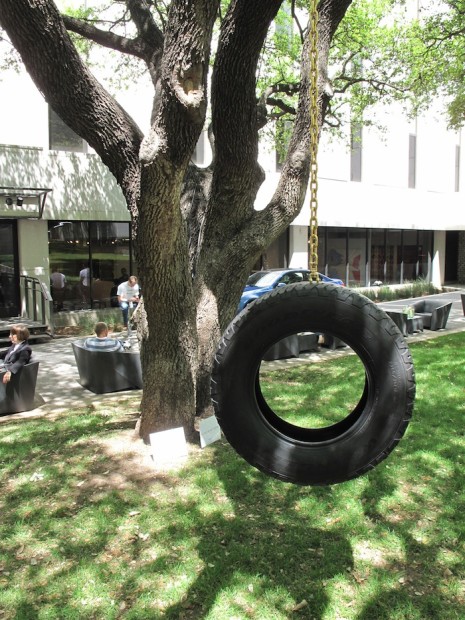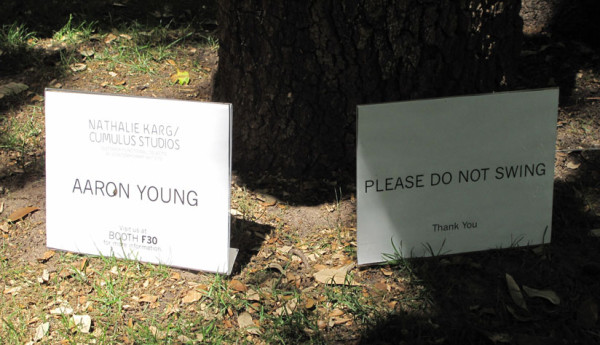 The second thing I saw were the no swinging signs.
Maybe it's me, but the novelty has worn off. Rather than be pleased to simply HAVE and art fair, the fifth Dallas event has put on the polish; it has lost its gangly selfconsciousness, has attracted some great Texas galleries, and a respectable spread of out-of staters, all of who seem to be making an effort. It's the best Dallas Art Fair I've seen. Heck- it's the best art fair I've seen anywhere, or at least the funnest, perhaps because it isn't too overwhelming, either in size, wealth, pretension, or quality.
People at the art fairs in Dallas and Houston always say, with pride (or relief),  that Texas galleries come off looking good in comparison to the visitors. Not that the visitors are bad- it's just that the worst fear- that local artists and galleries will look like poor relations, has, again, failed to materialize. Art fairs like this one are reassuring to a regional art scene that is always looking for reassurance.
Partly it's the out-of-context leveling that art fairs provide. Despite their relentless gloss, they are, in an odd way, democratic. Lugging sellable art into more-or-less uniform spaces the size of mid-range trailer homes tends to make everything look bad, equally.
It's also often said that it's a tough arena for art. Squashed, hurried, badly lit, and out of context, it's a wonder that anything's left of the art viewing experience you can have in a deserted commercial gallery on a thursday afternoon, or in your own living room, let alone a major museum. If you like art, this makes art fairs depressing and numbing. Perhaps because of it's relatively small size,  the Fashion Industry Gallery's human-scaled [nine foot] walls, or a little extra touch of care in the exhibitors'  installations, there are enough works with enough space and enough guts to take this kind of abuse to make this Dallas art Fair the least depressing I've seen.
Alan Rath's feather vibrator has what it takes to get noticed amid the hubbub.
Kirk Hopper Fine art of Dallas displayed three tiny paintings by Texas visionary Forrest Bess from Hopper's personal collection, in context with works by contemporary artists influenced by Bess, making his booth into a miniature museum show. Two of them are among Bess' best: radiating a magnetic weirdness that far outshines their physical dowdiness. Some of the followers have it, too, and some don't, making Hopper's thoughtful hanging an essay on how and why one technically crude, obscure little image is better than another.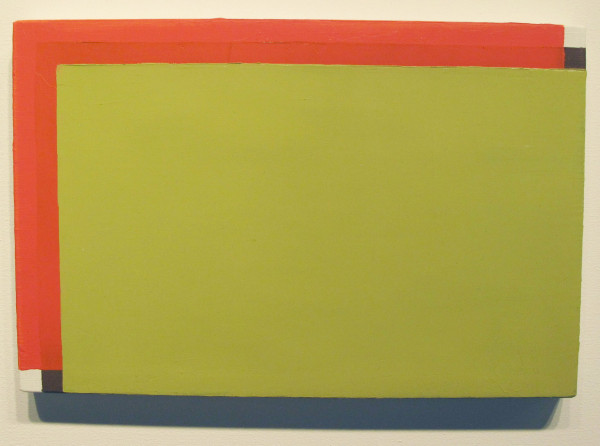 I'm also going for the row of small, shoddy abstractions (I mean that in a good way, for those of you who have net yet received your decoder rings) by Yui Yaegashi at Misako and Rosen gallery (booth B5).  They take up where Blinky Palermo (does anybody remember fabulous short-lived Blinky Palermo?) left off, with curiously serious sloppy geometry, sized perfectly for the average Japanese student apartment.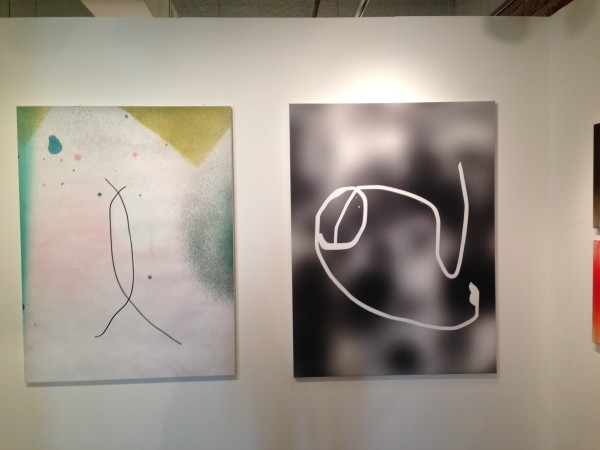 I think I saw everything, but I was not a very systematic critic- there was just too much to look at. I nevertheless took photos of some few works, ignoring hundreds of others. Not necessarily because they were the best: near this pair of Jeff Elrods, a new father was displaying his laughing baby to a small crowd of camera-phone wielding women. I chose to photograph the paintings; they're roughly equivalent.
Speaking of phone cameras, this is what you get when you try (not too hard) to shoot a large-ish beautiful stripe painting in the Dallas Art Fair's narrow halls.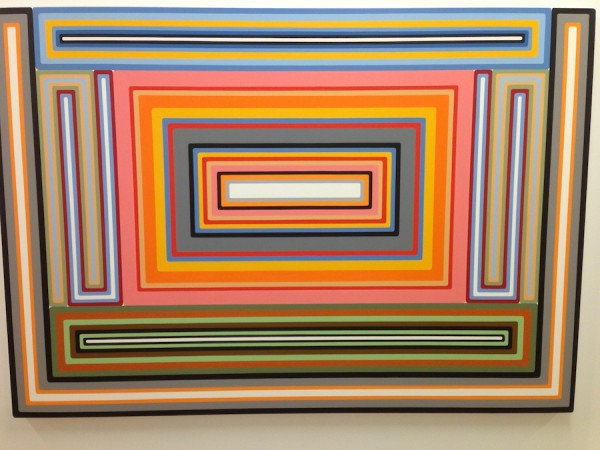 Warren Isensee, Solid State, 2012 at Danese Gallery
At that, the color was better than the larger, more formal pic I took afterwards with my big camera (a Canon G-10, get one!) and color is everything.
Don't get the idea that it's all abstraction at DAF- fun is just harder to find amid the acres of skillful, highly ownable, figurative painting at the fair, but that's another post.