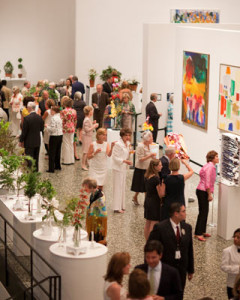 Like global warming, and with similar speed, contemporary art's omnivorous inclusion of the temporary and the handmade has caught up with the traditional art of flower arranging, as it has with quilting, pottery, ballroom dancing, and other traditional artforms, leaving them as islands defined by their own internal conventions, rather than by technique.
The contrast will be deliciously sharp as Treasure: Florescence, one of the largest competitive flower shows sanctioned by the Garden Club of America alights at the Museum of Fine Arts on  April 16-17 showcasing floral and horticulture arrangements by garden club experts, renowned floral designers, and other noted personalities.
As in years past, many of the flower arrangements will be interpretations of works from the MFAH's permanent collection. The odd and intricate rules for this ancient niche art form are available online, and include the important anti-misting guideline.