On a late Friday afternoon in March as rush-hour drivers braked their way through the I-10 and Loop 1604 intersection, San Antonio artists got their first formal introduction to the Visualization Lab at UT San Antonio. The VizLab is a two-year-old collection of high-powered computing and presentation equipment capable of producing dazzlingly hi-res images and 3-D objects, virtual and physical – but despite a broad mission statement that encompasses beauty as well as math, to date it's been bogarted by the science gang. The open house was facilitated by the Land Heritage Institute as part of its third Art-Sci Symposium – an annual forum on the intersection of art, science, technology and environmentalism hosted at the LHI's 1,200-acre classroom in south San Antonio.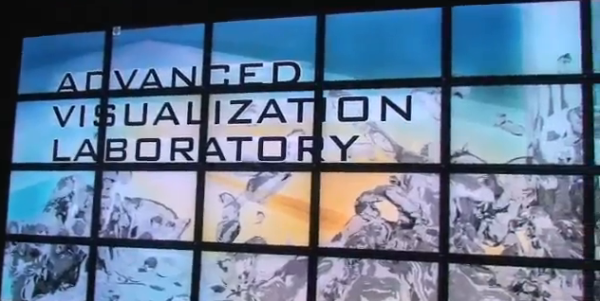 UTSA's VizLab is located on the university's 1604 campus, in a set of deceptively unimpressive academic rooms on the ground floor of the Multidisciplinary Studies building. It's not the biggest VizLab in Texas. SA's "vis-wall," the eye-entrancing array of two-dozen ultra hi-def Dell monitors, is 6 x 14 feet – a third of Austin's, which one artist described as like being in a church filled with stained-glass windows. Director Yusheng Feng said what's unique about UTSA's facility is its comprehensiveness; it includes laser scanners, a 3-D printer, touch screens, and webcasting and teleconferencing ability.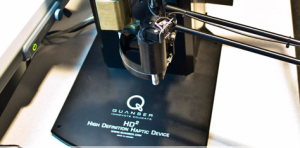 It's also the only viz lab in the state with a Quanser HD2 haptic tactile-feedback machine, which can be used to create 3-D models that can be "touched" virtually. Visitors to last week's open house got to toss a ball on an eerily realistic gelatinous membrane (flick your wrist downward at just the right speed, and trap the ball in the sludge) and practice taking a small biopsy from a (mercifully nonrealistic) torso. The biopsy program was designed to mimic the varying resistance you'd encounter puncturing skin, a kidney and the muckety-muck in between.
"We use haptics as a virtual training tool, but for artists it could be virtual clay," Feng said. "It's a facility only limited by people's imagination."
At the VizLab's open house, printmaker (and now digital artist) Francesca Samsel presented samples of work  she has created for the visualization wall at the ACES Visualization Lab at UT Austin's Texas Advanced Computing Center, which has included documenting the environmental effects of the 2010 Gulf Oil spill and the nuclear disaster that followed the 2011 Japanese tsunami. Samsel uses the viz-wall like set of dynamic light-boxes – layering photos, sketches and prints and tiling them across the screens in kinetic combinations. The technology, she says, makes it possible for her to present "accurate, current, first-class science" in a deeply layered way.
"It's given me a platform to really speak to issues of our time," Samsel said later. "And access to people who problem-solve and think very conceptually about these things."  She seemed as excited about the opportunity to exchange knowledge and perspective with her collaborators as she is about the actual technology.
Samsel – whom Feng knew from his days in Austin – was also featured at the UTSA VizLab's debut, in 2011, but since then artists have been a rare presence in the facility, a deficit that inspired LHI Art-Sci Project Director Penelope Boyer to arrange the open house.
"In the charter of it is the word 'the arts,' but no one had ever followed up on that fact," Boyer said. "These are tools other artists around the state, around the country, are using."
We spoke a week after the event and Boyer was still frustrated with the turnout for the symposium and defensive about what she felt was a derisive attitude among some of the artists who attended the VizLab open house. (What's a San Antonian? Someone who will drive to Marfa for the weekend, but doesn't want to cross 410 for lunch … or a workshop.) It's true that some members of the audience were audibly unimpressed when the presenters used the viz-wall to flash an enormous detail of Van Gogh's "Starry Night" from the Google Art Project. But while the vibe at the open house was a little like an awkward first date – interested parties shyly circling one another, trying to think of an ice-breaker, a couple skeptics shrugging that "he's not all that" – a successful match is only another conversation or two away.
Carol Lafayette, associate director in the cross-disciplinary department of visualization at Texas A&M University, was one of the artists Boyer invited to present at this year's symposium. Lafayette has used Ground Penetrating Radar (Lafayette describes it as "sort of like an MRI for soil"), to recreate a leafcutting ant colony as a 3-D virtual sculpture, and deployed surveillance devices that can catch wildlife activity outside of human sight and sound capabilities.
"The tools are becoming a bridge across different disciplines," Lafayette said. Through her involvement with the national Sciences, Engineering, Arts & Design network, she has learned a lot about how technology and art can work together, but the full potential isn't necessarily immediately obvious to artists or scientists. In a recent series of essays by SEAD participants, Lafayette said, "one of the strong threads" was the need for a "role that listens and helps communicate."
At UTSA that role may fall to Mark McCoin, the new-media professor who's joining the faculty this fall. Greg Elliott, chair of the university's art department, comes from a family of scientists – one brother works in the magnet lab at TAMU, the other is a theoretical physicist. He likes to joke that he's a "dinosaur." As tools to assist with the design and production of traditional media, the VizLab didn't raise his pulse, but he found it interesting as a set of new media and a context for collaboration.
"In science, asking questions results in finite answers. [In] the arts, the questions are more like, what's the nature of friendship? What's the nature of love?" Elliott said. "I don't think the interpreters quite exist yet."
Gary Nichols, a printmaker with San Antonio's Hare & Hound Press, attended Friday's open house, and he left with a couple of questions about the VizLab: "How do I get to use this, and what do I do with it?" When we spoke Thursday, he still had the VizLab's web page tab on his screen.
Answers to the second question were dizzyingly open-ended at Friday's open house – pitch an idea, and the programmers will work with you to figure out if and how it can become reality, Program Coordinator Ben Campos said. (Something to keep in mind: it took more than a year to create the model and the mathematical formulae for the virtual "torso" we poked and prodded. On the other hand, using programs such as Sage, it's comparatively simple to work with the viz-wall. "The interfaces get better all the time," Samsel says.)
Feng would like to be Nichols' – and anyone else's – entree to the lab. The lab was funded with a half-a-million-dollar grant from the National Science Foundation, "so at least in my opinion it's open to the public," he said. "I welcome any kind of application right now," as long as it can be justified as an interesting project. For the time being, anyway: the VizLab hasn't figured out its long-term operational funding, and as the facility grows in popularity, and the school figures out how to keep the VizLab open and up-to-date, it may become harder to get on the calendar if you're not enrolled. Sign up for a timeslot here.