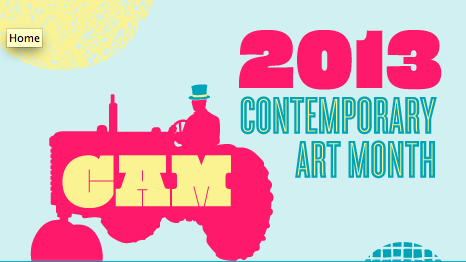 Recently I had a chance to talk with Nina Hassele, director of Contemporary Art Month (CAM), and CAM Board Member Leigh Baldwin; both told me all about CAM past and CAM present. CAM is a remarkable thing: For 28 years, the arts community and the city of San Antonio have devoted an entire month to promoting, diffusing and supporting the visual arts, and they continue to grow and experiment. This year's celebration features the second  CAM Perennial Exhibition, guest-curated by Contemporary Arts Museum Houston Director Bill Arning, and the inaugural CAMx (The CAM Exchange), an exhibition between artists from San Antonio and artists in another chosen city, this year: Houston.
It's an exciting time for CAM and for the growing San Antonio visual arts world. It's also exciting to see a city reach out to collaborate with artists and curators elsewhere. Far too often our worlds are limited to the city we live in. CAM is taking the steps to change that. Thanks for bringing a whole lot of dialog into our lives, CAM!
bite like a kitty, CAM's perennial group show, opens March 15 at the Guadalupe Cultural Arts Center. It features work by Sarah Sudhoff, Joey Fauerso, Julia Barbosa and Saintlorraine, a collaborative effort between visual artist Kristy Perez and choreographer Britt Lorraine.
CAMx opens the lines of communication between artists and art communities in Houston and San Antonio with an exchange between spaces and artists. Triple Treat, curated by Gus Kopriva and featuring the work of multimedia, Houston-based artists Adrianne Roesch, Emily Sloan and Kaneem Smith, will be on view at Unit B Gallery from March 16 through May 4. Triple Treat will be followed by an exchange exhibition curated by Unit B Gallery at Houston's Redbud Gallery from July 6-28, 2013. It's a valiant effort and personally I'm thrilled to see institutional support for dialog across cities and borders.
Well done, and thank you, CAM.