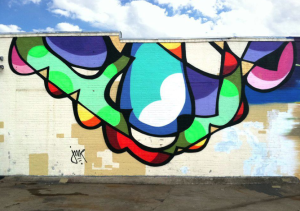 The Dallas Contemporary has announced that it will commission Dallas-based street artists JMR and SOUR GRAPES to each paint 60+ feet of an existing wall at the Belmont Hotel as a part of an ongoing partnership between the org and the hotel. Following up on the success of last year's visit from famed Los Angeles street artist Shepard Fairey, who produced (not painted!) five murals throughout West Dallas.
In January 2013, the Dallas Observer worked with Adjunct Curator/ Street Art Expert, Pedro Alonzo to commission a mural by JM Rizzi, or JMR at Dallas Contemporary for the Observer's annual ARTOPIA event.
In 2011, new DC director Peter Doroshenko commissioned the Oak Cliff-based graffiti crew SOUR GRAPES to create two large murals on both the exterior and interior walls of the museum.