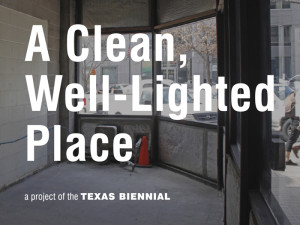 The organizers of the Texas Biennial have announced a series of free public readings in a street-level storefront on Congress Ave. in Austin, amid the hubbub of music and media fest SXSW, titled "A Clean Well-Lighted Place" after the cafe in Hemingway's famous story, and Dave Hickey's storied late-60's Austin art gallery.
Local participants, including artists, critics, art historians, curators, arts administrators, educators, museum patrons, collectors and gallerists (to date, no auctioneers are confirmed) will read selections from the texts they find most pertinent to their understanding of contemporary art.
Readings take place Sunday, March 10, 4pm–12am; Monday, March 11, 6pm–12am; and Tuesday, March 12 6pm–12am at 823 Congress Ave. and will be streamed online at www.texasbiennial.org.
The project aims to be an "optimistic place for public conversation about art and art criticism,"  showcasing how Austin has a "vibrant visual arts community that sees itself as connected in many ways with those creative industries and modes." but it's an uphill battle: when Glasstire applied for a  press pass, the SXSW Press & Publicity Department told our writer:
"Thanks for your interest in SXSW 2013 and your patience with the application process.  Unfortunately, we can not approve you for a press credential this year. However, we would be happy to extend you the ability to purchase one standard badge at the lowest rate:
Music – $625
Film – $450
Interactive – $695
Gold (Film + Interactive) – $895
Platinum (Music + Film + Interactive) – $1150"
BTW, The Texas Biennial's open call for art for its 5th statewide survey ENDS TOMORROW, FEBRUARY 28!