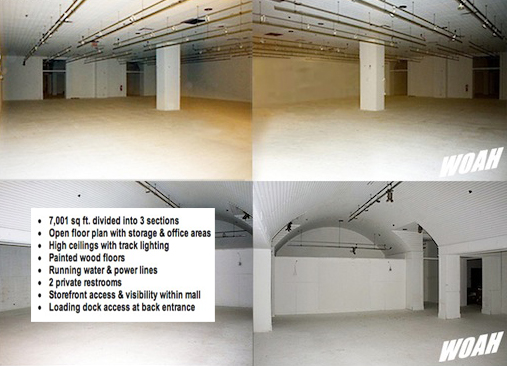 We Open Art Houses (WOAH), Sharsten Plenge's art-venue-in-a-shopping-mall project in west Houston, is looking for tenants for it's "affordable, project-ready space" at its new West Oaks Art House at West Oaks Mall (WOAH at WOM) location. In June 2012, Suchu Dance inaugurated the opening of WOAH at WOM with the site-specific performance Afternono as part of the Big Range Dance Festival.
We Open Art Houses is the new nonprofit, Los Angeles-based incarnation of West Oaks Art House, an emerging arts-service organization that "animates available space with site-specific visionary projects." Sponsored by Fractured Atlas, WOAH works with with artists and property owners to transform underutilized and off-the-grid open spaces into temporary art venues.
In exchange for operating projects on-site, artists get use of a 7000sf former department store space in side the West Oaks Mall.