Austin film programmer Zack Carlson and the Alamo's upcoming screening of rarely seen mindblower, "The World's Greatest Sinner"
Everyone knows that Austin's original Alamo Drafthouse Cinema is the coolest. Many around the country have tried to copy the model of Tim and Karrie League's brainchild by blending the movie and dining experience, but most have completely missed the most important ingredient in the Alamo recipe–having half-crazed, insanely passionate film nuts at the helm.
One of the brilliant lunatics who've helped to shape the Alamo's eclectic film programming and build its rabidly loyal local audience is Zack Carlson. He's been bringing films to their screens and special guests to their stages for about eight years now. This month he'll be stepping down from his official position as Austin's Henri Langlois.
A VHS-generation, self-taught scholar, Zack's film knowledge is deep, his tastes are wide-ranging, and he's especially good at bringing attention to genuine brilliance within genres that are normally considered trash by the academics and irony laughs by hipsters (horror, action, comedy, rock and roll oddities, homemade films, etc.) His giddy enthusiasm is matched by a tremendous ability to hunt down 35mm prints of extremely rare films. The guy is a hound dog. Most audience members have no clue just how much of his job is meticulous investigation, but his Alamo series' and special screenings have had many a film nerd, programmer, and curator slapping their foreheads and saying, "What?! Where the hell did he find that?" Myself included.
Outside of the Alamo job, he's been working independently on a ton of other stuff. Zack and his writing partner Bryan Connolly put together the great Destroy All Movies book, an obsessive compendium of punks in film, released in 2010. The two have also written a number of screenplays. And Zack was a producer on the recent documentary film The American Scream. To anyone who knows about his deep love for film, insane drive, and increasing side projects, it came as no huge shock when he recently announced that he would be leaving what many consider to be the best job in the world for the dumbest and greatest of reasons: to focus on making his own films.
Zack, of course, is going out with a bang. For his final act of outrageous film exhibition at the Alamo, this Tuesday night he'll bid adieu by presenting (what else?) an ultra-rare 35mm print that he's unearthed of an impossibly hard to see, jaw-droppingly odd and amazing film that you've never heard of!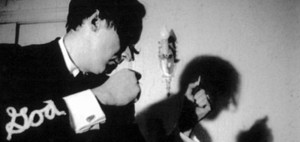 Despite being highly praised by folks like Martin Scorsese and Quentin Tarrantino, the legendarily wild 1962 film The World's Greatest Sinner has gone largely unseen for 50 years, and is still not available for home viewing. Sinner was the passion project of Timothy Carey, who wrote, directed, produced, and stars in the unbelievable oddity. (You may know Carey as a character actor in films by Stanley Kubrick and John Cassavetes.) The film's music is by a young, pre-Mothers Frank Zappa. This thing is just totally beyond description, but the Alamo's description here does a pretty good job of evoking it without spoilers. Tuesday night's screening is another of the once-in-a-lifetime film opportunities that Zack has been bringing Austin audiences for years, and it's a good time to show your trust in and love for the hard working cinema-slinger. Pat him on the back. Or punch him in the face. I'm guessing he'd appreciate both equally.
I recently spoke with Zack about his work and his farewell flick:
How did you get started as a movie investigator, media collector, connoisseur of oddball cinema?
I really have to credit mom n' pop video stores for setting me on my go-nowhere path as a programmer and film nut. I worked for a couple rental shops in my early 20's and more or less caught a permanent case of movie goon fever there. When Blockbuster and Hollywood Video invaded and the pure-of-heart stores started closing down, I began rabidly buying up all the oddball tapes I knew I couldn't get elsewhere, especially homemade horror and action stuff. That led to me becoming the programmer for an all-night 35mm horror marathon that was part of the annual Olympia Film Festival. That eventually led me to a job programming and managing the Grand Illusion Cinema in Seattle. I also worked a couple shifts a week at the incredible Scarecrow Video in Seattle, which is still my favorite business in America. Damn I love that place. Renting from that store can teach you a thousand times more than any film school. I truly believe that.
When did you move to Austin and start working with the Alamo?
I pitched in on their first Rolling Roadshow Tour in 2005, which was a cross-country event screening movies in 35mm at the locations where the films were shot: The Warriors in Coney Island, Repo Man in LA, etc. I was so excited about the concept of the tour that I insisted on flying myself out to Austin and working the entire thing for free, just so I could be there for these shows. It was one of the best adventures of my life, and at the end, Alamo owners Tim and Karrie weren't sick of me so they offered me a job. I moved out to Austin in Summer of '06 with my best pal/writing partner Bryan [Connolly], and after being temporarily thrown in jail for a third-degree federal felony charge for terrorism, I began my job as a full-time programmer for the Alamo and Fantastic Fest.
Wait- what was this terrorism incident?
The terrorism charge was because [Alamo co-founder/owner] Tim League's double-bladed throwing knife somehow ended up in my travel bag when I went to the airport. Because that type of knife is illegal in Texas, and I was going through security, and I looked like an unshaven pedophile that day, they threw me straight in the slammer. It was a slow news day, so I ended up on the front page of the paper with a full-color mugshot and "SUSPECTED TERRORIST ARRESTED" in big bold letters. What a party.
You've brought a lot of rarely seen films and special guests to the Alamo in the years since then. Do you have any favorite Alamo programs or moments?
Countless! It's been a pretty unbelievable stretch. There were "big guest" shows with childhood heroes like Elvira, Robert Forster screening Vigilante, Sybil Danning with Howling 2, UHF with guest Weird Al, and so on. But most of my favorite shows were when we brought out a less popular–or even unknown–actor or filmmaker and got to share their work with an uninitiated yet responsive crowd. Illinois outsider filmmaker David "The Rock" Nelson came out by train last year (he's afraid of air travel) to show some of his camcorder-made monster movies, and by some impossible twist of fate, the theater was completely packed. Everybody loved it. Nelson is in his 50's and has never found any audience at all for the movies he makes, and he was so emotionally moved by the audience's overwhelming response that he ripped off his shirt in the middle of his Q&A, dropped to the stage, and did 50 push-ups. It was genuinely magical.
So, why are you leaving the Alamo? What's next?
There are a bunch of reasons for me to make this change. There's no bad blood between me and the Alamo. I'm friends with Tim & Karrie and my co-workers there, and I hope to know those people for the rest of my life.
I really just feel that I've spent the last one and a half decades programming and celebrating other people's movies, and since I hate 99% of the movies made now, maybe I should try to be part of some good ones. Help good filmmakers get their stuff out, and write some scripts that don't involve fart jokes or marijuana hijinks, you know? There are more movies being made now than ever, but I really feel that the industry is at its darkest, lowest point for creativity and initiative. I'm certainly not so arrogant that I think I can singlehandedly fight against all of that, but I want to do my part in the war effort.
I don't have a new job. This is probably one of the stupidest things I've ever done. But I'm excited about it and my wife Laura is being ridiculously supportive. Bryan and I are staying in Austin, and will just continue writing screenplays until our fingers fall off. I'll be helping a few filmmaker pals with their no-budget projects when I can, and probably spend time eating pork n' beans out of a can and sleeping under a bridge. I can't wait.
The World's Greatest Sinner is legendary and an impossible-to-see film. Nice finale!
I love this movie with all of my heart. But, to be fair, it's the type that could be classified as "not for civilians." Director/star Timothy Carey's approach to acting and filmmaking is pretty shocking to anyone who's not prepared for it, but I think that's a lot of the film's value. It's SOOO jarring and bizarre and sacrilegious and also weirdly innocent. Not in an artsy-fartsy way. I mean, just the opposite. There's really nothing else like it. I can't imagine how audiences responded to it when it was released in 1962. They must have called the cops or set the theater on fire.
Carey was always an incredibly unusual actor in movies by Kubrick and other Hollywood names, but he's completely unhinged in this movie. He doesn't have to follow anyone's rules but his own, and he doesn't seem concerned with rules. His on-screen behavior and the script he wrote are completely alien. Even just the way he dances in his silver suit–no other human being would act that way.
I first saw it on a bootleg VHS tape when I was about 19 years old. I couldn't believe a movie like this existed. It really was a revelation. I never thought I'd see it again, and to get a 35mm print from the director's son is pretty outrageous. I can't tell you how much I look forward to seeing a room full of people get their skulls smashed by this movie.
*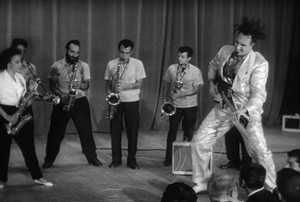 Zack Carlson's Goodbye Show:
Tuesday, Feb. 12 (7PM)
Alamo Drafthouse Cinema- The Ritz
320 E 6th Street, Austin, TX 78701