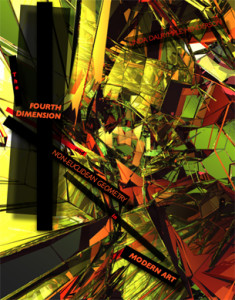 Dr. Linda Henderson's famous book, The Fourth Dimension and Non-Euclidean Geometry in Modern Art, first published in 1983, has been expanded and reissued by the MIT Press, and just in time! Unavailable for a decade, copies of the original edition are going for hundreds of dollars. Now you can indulge your trippy science cravings for only $45.
The book makes the case that popular interest in a suprasensible fourth dimension of space and curved non-Euclidean geometries was central to the development of early 20th-century art. In her re-introduction of the new book, Dr. Henderson surveys the impact of the notion of higher spatial dimensions on art and culture from the 1950s to 2000. Although largely eclipsed by relativity theory during the 1920s–1950s, the spatial fourth dimension has returned to cultural prominence in the wake of the emergence of string theory in physics and of computer graphics.
Dr. Henderson is the David Bruton Jr. Centennial Professor in Art History at UT, Austin.