The website of Austin's Flatbed Press is offering a limited edition aquatint by noted Texas artist Melissa Miller for $1,500. If, however, you were surfing eBay on January 3 of this year, you could have snapped up a limited edition aquatint by Miller for $15. One might assume the $15 print on eBay was offered by some clueless person, unaware of its value and the artist's stature. It was, however, sold by the Dallas Contemporary through its now-infamous eBay account. That account sold other limited edition prints by other well known Texas artists such as Vernon Fisher, Linnea Glatt, Ted Kincaid, Annette Lawrence, Tom Orr, Ludwig Schwartz, Julie Speed and James Surls. Their works were typically sold by the Dallas Contemporary for $15 to $50, and, as in the case of Miller, were shockingly undervalued.
All of these artists donated prints to the Dallas Contemporary under a previous director in order to help the nonprofit organization raise money. Unfortunately, this eBay idea was what the Dallas Contemporary came up with about a year ago to get rid of those that were left. Peter Doroshenko, the executive director of the Dallas Contemporary, has even given an interview about the topic calling it a "stupid mistake" created by his staff, many of whom he says "don't know what it means to be an artist." While I'm not here to delve into all the dirty details or attack the Dallas Contemporary as an institution, I do want to discuss why this is a big deal and why it will be difficult for Doroshenko to bounce back.
So, playing devil's advocate, I know what some of you may be thinking: "What's the big deal? They're just prints and they were donations for the Dallas Contemporary to raise money, which is what they did." And you'd be partially correct. But only partially. For artists of this caliber, prints are not mass-produced posters (a semi-common misconception). They come in a limited edition and, while priced in accordance with the fact that they are a multiple, are very valuable. In fact, several of the prints in question have current market values that exceed $1,000.
The Dallas Contemporary does seem to have legally had the right to sell the items, even at that deeply discounted price.  As far as I can tell there was no written contract specifying each print be used in a specific manner or sold close to its current market value. If there were, we might be looking at a super dramatic legal confrontation. However, I'm sure the donating artists did not give these prints without any indication of how the organization would use them to create revenue, and I'm absolutely positive none of them would have agreed to any part of this eBay sale. Don't believe me? Scroll to the bottom of this article and read the letter signed by artists (and art dealers) caught up in this mess.
To me, the two main problems with this event come down to the lack of transparency and the prices. The artists and galleries who signed the public letter linked above also consider the use of eBay an affront in itself, but considering that eBay is frequently used for well managed charity auctions on a regular basis, that does not seem like as big of an issue to me. One might say, "how was there a lack of transparency? The items were on eBay!" Here's how. While an eBay store is a very public forum, the lack of transparency comes from the fact that artists were not contacted at all about the sale. It's clear if they had been, none of this would have happened. All it would have taken would be a quick email to the artists, or the galleries who work with these artists, and the Dallas Contemporary would not only have had the correct values of each work, but easily could have had 100 different (better) ideas for events and promotions to utilize the donations properly. I mean, please tell me how $15 could genuinely help? It might maybe cover a couple packs of pens at the most. There's a clear lack of management here.
The second major issue I find is the given value of each work. The Dallas Contemporary doesn't have the best reputation, out of the Dallas non-profit art organizations, for supporting or interacting with the local Texas art community. This isn't necessarily my personal view, I haven't been around Dallas long enough to draw my own conclusion, but it is something I have heard from a multitude of different sources, particularly artists. And what the eBay prices of the donating artists' work state, even if that was not the intent, is that the Dallas Contemporary values these limited edition prints at a price that is comparable to a poster found on Allposters.com. Basically, it was a great way to alienate the high profile artists who did support the organization. Thankfully, the listings aren't extremely visible because a public record of such a low value (priced and sold by a reputable non-profit institution) could actually hurt an artist's sales.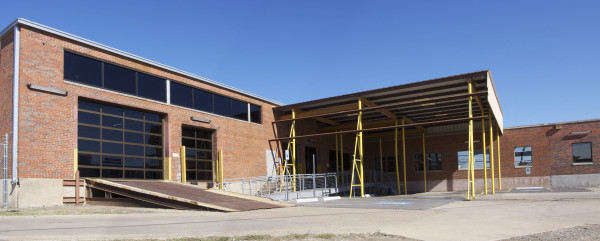 While all the listings are not visible, and there certainly are not any current artwork sales up now, I looked up some of the items that were sold via eBay's seller review feature. The Dallas Contemporary eBay store has 27 total reviews from 12 buyers, ranging from February 2012 until January 8, 2013. Besides making an unfortunate statement, there is a larger problem with the sales price that can be found here. People who stumbled upon these prints and knew what they were being offered had the opportunity to purchase multiples of the works in order to resell them, and I promise they won't be selling them for what they paid for them. I'm not claiming everyone who purchased this work is planning on doing this, but it's almost guaranteed some will.
The issue here is that these artists' sole way of making money on their work is through the primary art market where they receive a commission or consignment fee. Now, these artists may potentially have to compete with their own work, being sold by art "flippers" if you will, in the art market. This is not anything new, but it should not be something facilitated by a non-profit arts organization or the result of an artist's own generous donation. In fact, one of the donated prints has already made it to the marketplace. According to Peter Simek, Red Arrow Contemporary has a Vernon Fisher print purchased a month ago by the gallery owner, Ed Stafford, not on eBay but at a Dallas Contemporary pop-up shop, for $1,000. At Red Arrow, that same print is now listed at $1,800, a far cry from the probable $50 price tag it most likely would have been given in the online shop.
When it comes down to it, Doroshenko has a very long way to go before he can make up for his "stupid mistake." And yes, I refer to it as his mistake even though the director seemed to blame less informed staff during his recent interview.  The eBay listings were too well thought out and put together to have been created by someone who did not know what they were selling. Each listing had a full artist bio, including accolades and permanent collections, along with detailed descriptions of what each piece was and how it was made. The $1,000 price tag on the Fisher print purchased by the owner of Red Arrow also shows that someone handling the distribution of the prints knew that they were worth more than the $15 to $50 price tags given to them on eBay. If Doroshenko did not know about the eBay sale, even though it was going on for a year, someone on his staff who knew better certainly did, and as the Dallas Contemporary's executive director that makes this his mistake, not one that can be handed off to an anonymous staff member.
What do you think? What can the Dallas Contemporary and Peter Doroshenko do to try and make up for this sale? Can they win back the local artists' trust? Or do they need to?
*Full disclosure: I am a part-time intern at Talley Dunn Gallery which represents several of the artists affected by the Dallas Contemporary's eBay store. While I do not believe my opinion on this subject has been swayed by my job, my opinions also do not in any way represent the official views of Talley Dunn Gallery. If you would like to read the letter signed by galleries (including TDG) and artists alike on this subject, please click here and scroll down.
_______
Casey Stranahan is a gallery assistant who currently lives in Dallas. She received her MSc in modern art history from the The University of Edinburgh and has also worked for galleries in Houston, New Orleans and Edinburgh, Scotland.