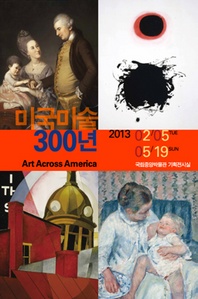 The Museum of Fine Arts, Houston is one of four institutions participating in Art Across America, an exhibition  billed as "the first major survey of historical art of the United States to take place in South Korea." Opening February 4, 2013, at the National Museum of Korea, in Seoul, the show is co-organized by the MFAH, the Los Angeles County Museum of Art; the National Museum of Korea, the Philadelphia Museum of Art; and the Chicago-based Terra Foundation for American Art.
Decidedly didactic, the exhibition will introduce American art and identity through six themed sections of paintings: American People, American Landscapes— East to West, Daily Life in Art, Cosmopolitan America, Modern America, and American Art after 1945. Vignettes of decorative arts and design will be paired with each section to exemplify vernacular traditions: An Eighteenth-Century Parlor, Native American Art, Pennsylvania German Art, A Nineteenth- Century Parlor, The Aesthetic Movement in America, and California Design after 1945.
"Many Koreans are aware of American artists such as Jackson Pollock and Andy Warhol, and familiar with post-1960s American art, but not with the work of artists of earlier periods such as John Singleton Copley, Thomas Cole, Winslow Homer, and Thomas Eakins," explained Seung-ik Kim, NMK's lead curator for the exhibition and a specialist in Korean modern art and visual culture. Works by these artists and others in Art Across America help illuminate dynamic connections between American art and national identity during a historical period in the nation's development with which Koreans are largely unfamiliar.
"The primary aim of the exhibition is to help the Korean people better understand and appreciate American art history in particular and the cultural history of the United States in general," said Austen Barron Bailly, Associate Curator of American Art at LACMA. "Sections will highlight the significance of portraiture and landscape painting to the development of an American art history, nineteenth-century genre painting as an expression of American society, American artists' abroad and their myriad responses to Modernism, among other subjects."
And the quid pro quo: in early 2014 a major exhibition of Korean art from the collection of the National Museum of Korea will open in Philadelphia before travelling on to Los Angeles and Houston.