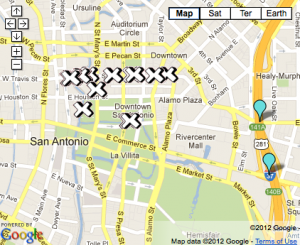 X Marks the Art, a public/private arts initiative that aims to activate underutilized and vacant downtown properties in San Antonio opened its second round of installations in mid December. Titled "Cut and Paste" and curated by artist Cruz Ortiz, the show features over 15 installations, by 22 artists in 14 vacant downtown properties, loosely linked by the theme of "cutting" and "pasting" and conveying the artists' expressions of living, working and playing in downtown. The installations will be on view for up to six months beginning in December 2012. X Marks the art is a program of Public Art San Antonio (PASA), a division of the Department for Culture and Creative Development.
Artists involved in this round include Adriana Garcia, Robert B. Gonzales, Esteban Delgado, Rigoberto Luna, Luis Valderas, Jenelle Esparza, Zane Carroll, Sage Gibson, Matt Damien Ritchie, Aldon Mines, Amada Miller, Tommy Hopkins, Shannon Gowen, Aaron Moreno, Chad Gamez and Say Si. Real estate partners include DH Realty, Hixon Properties, Peloton Commercial Real Estate, REATA Property Management Inc., Service Lloyd's Insurance Co., Transwestern, Zurich Properties.
Descriptions of the projects and a map of the locations along Houston St. and neighboring blocks between Alamo Plaza and Soledad Streets are on the project's website.