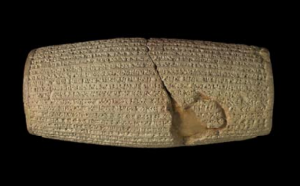 The British Museum has announced that the Museum of Fine Arts Houston will be one of the stops for the Cyrus Cylinder, a 9-inch piece of baked clay shaped like an inscribed watermelon, which will tour five major museum venues in the United States.
The cylinder was inscribed in cuneiform on the orders of the Persian King Cyrus the Great (559-530 BC) after he captured Babylon in 539 BC. It is often referred to as the first bill of human rights since it appears to encourage freedom of worship throughout the Persian Empire and to allow deported people to return to their homelands. The British dug it up in Babylon, (in modern Iraq) in 1879 and has been on display at the British Museum ever since.
The touring show, set to land in Houston in May 2013, includes 16 other artifacts highlighting cultural innovations of the Persian Empire, and is sponsored by the Iran Heritage Foundation America, a group promoting academic Iranian studies through grants and publications.
For many the cylinder is an Iranian national symbol: more than a million visitors viewed the artifact when it was on display in Tehran in 2010-2011. In 1971, The Shah of Iran's pre-1979 government put it on display in Tehran to commemorate 2,500 years of the Iranian monarchy.