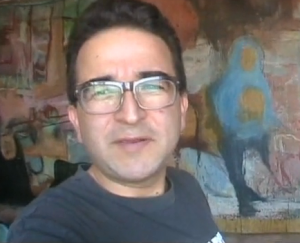 Dallas artist Fred Villanueva's 21,000 square foot exhibition, The Art Fair of Texas, is set to open in tandem with The State Fair of Texas in Dallas on September 28.  "In the spirit of Le Salon des Indépendants, and Le Salon des Refusés, or the Vienna Secession", Villanueva describes the event as an "interaction between High and Low, Pop Art, Place, and people." Villanueva hopes to piggyback on the Texas State Fair's predicted 3 million visitors, siphoning off a sliver of audience for high art at what he sees as the first in an series of annual events.
Not lacking for chutzpah, Villanueva hopes to mount an ambitious mega-solo show, with a survey of his own works for the past 15 years, several monumental steel constructions in an outdoor sculpture garden, and acres of mural-scale paintings.
Funding for the venture, which Villaneva calls "the cause of bringing quality contemporary art to the masses" will be footed by the masses themselves, through a Kickstarter campaign. "I think that Kickstarter should be funding challenging projects that bring art to the people, that welcome people into a creative environment, and hopefully, that challenges them to think differently and to pass on that beauty to somebody else." He says it's "a chance to see a different side of life that tyou might not get with the fried food up the street at the State Fair."
The opening reception is scheduled for September 28 at 7pm, at 3203 Ash Lane @ Jaguar in Exposition Park.