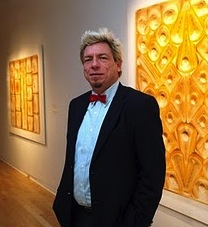 The Smithsonian American Art Museum has bought Seven Days: Breakfast Tacos by San Antonio artist Chuck Ramirez, adding ti to their permanent collection. The large format photograph will be included in the upcoming exhibition, Our America: The Latino Presence in American Art, which will be on view at the American Art Museum in Washington, D.C. from October 25, 2013 to March 2, 2014.
Ramirez was a force in the San Antonio art community before his untimely death in a 2010 cycling accident. Ramirez employed the visual and conceptual techniques found in contemporary advertising and package design, isolating and re-contextualizing familiar objects to explore cultural identity, mortality, and consumerism through his photographs and installations.
The accession is a victory for Patricia Ruiz-Healy of Ruiz-Healy Art, which represents the artist's estate. "We are so pleased that Chuck's work is being properly recognized at a national level, especially by such a prestigious institution. The inclusion of his work in the Our America show, along with artists like Ana Mendieta and Vic Muniz, will bring another perspective and layer of understanding of his work," she said.