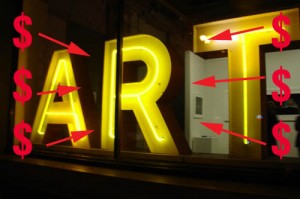 According to a study by arts advocacy group Americans For the Arts, nonprofit arts and culture industry generated $236 million in annual economic activity in Austin in 2010, supporting 7,315 "full-time equivalent" jobs and generating $23 million in local and state government revenues.
The impressive figures are taken from Arts & Economic Prosperity IV, a national economic impact study. The Austin segment of the report is available online.
At officials are happy: "A common perception is that an investment in the arts comes at the expense of economic development; we have long felt that this is not the case. This study shows that the arts are an industry that supports local jobs, generates government revenue, and is a cornerstone of tourism for our city," says Megan Crigger, Cultural Arts Division Manager, City of Austin.
The Arts & Economic Prosperity IV agrees with findings of another report, The Economic Impact of the Creative Sector in Austin, by TXP, Inc., an economic analysis and public policy consulting firm in Austin. The firm evaluated the economic activity of the creative sector as a whole (music, film, gaming, visual arts, tourism, and nonprofits)and concluded that the creative sector in Austin accounts for over $4.35 billion in economic activity, over $71 million in tax revenues, and almost 49,000 jobs.